IPL match fixing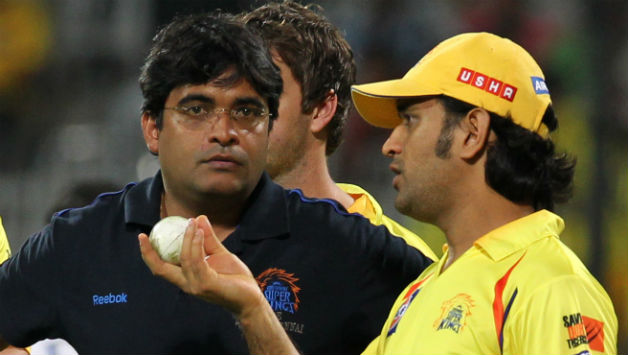 A floury of controversies rolled in the 2013 edition of the Indian Premier League. People started believing that the cash rich league is making even the best in the business become greedy.
An investigation was done by SP Kumar in relation to the 2013 IPL match fixing scandal. Kumar submitted a report about a bookie who confessed that Gurunath Meiyappan had informed him about Dhoni loosing a match and scoring 140 runs. Meiyappan later agreed of Dhoni's involvement in the dirty case.
The match was played on 12 May, 2013 where CSK scored 141 runs and Rajasthan Royals won the match.
The name of MSD in match fixing kept picking headlines overnight but there was no legal action taken against him due to unavailability of further evidences.
(Please open the next page to see the other reasons)
Dhoni portrayed as Lord Vishnu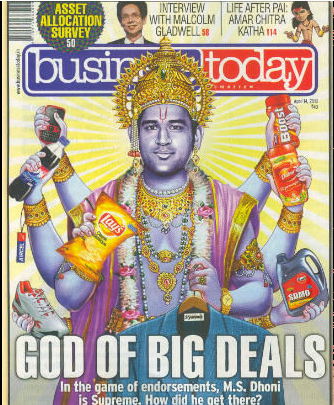 In 2013, Dhoni was sketched as Lord Vishnu for Business Today's Cover magazine owing to the amount of advertisements offer he had at that time. He was shown having many hands and held a shoe in one hand that became the centre of controversy.
For a country like India, its like playing with the feelings of people and their devotion towards "God".
Choori Khan, the 6th Additional Chief Metropolitan Magistrate registered a case under section 295 (injuring or defiling place of worship with intent to insult the religion of any class) along with 34 of the Indian Penal Code against Dhoni on a complaint filed by social activist Jayakumar Hiremath.
Finishing it-off
Having discussed all six reasons it is fair enough to say that you can't hate a man who has won 3 ICC trophies for a country. His receding black hair turning into greyish day by the day tells you the story of the greatest man to serve Indian cricket………………………Agreed?