Team India's spinner Yuzvendra Chahal shared a photo with his teammate and spin twin Kuldeep Yadav on his social media account. The photo garnered huge interactions amongst the fans but England's star female cricketer Danielle Wyatt took a pinch on this photo. She joked about Chahal's stature and said that he looks to small in height.
Danielle Wyatt also came into the limelight when she proposed Team India captain Virat Kohli for marriage. She expressed her feelings for the Virat on social media.
The first match of the one-day series against West Indies was played on Sunday in Chennai. Prior to it, Indian players took part in the photo shoot. Yuzvendra Chahal shared a photo with Kuldeep Yadav of the photoshoot and captioned "Making headshots look fun here in Chennai ".
English female cricketer Danielle Wyatt trolled Chahal and wrote "i think you are smaller than me".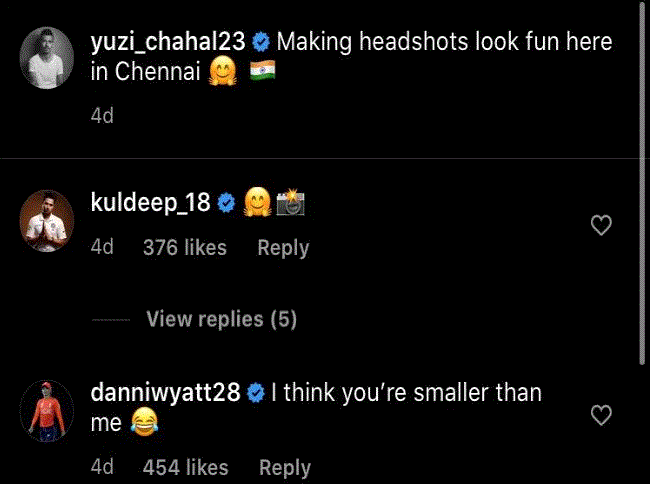 The comment made by Danielle is becoming viral on the social media. However, this picture was posted by Chahal before the start of the first ODI against the West Indies in Chennai. In this match, Chahal did not get a chance to play in the playing XI, while Kuldeep played alongside other spinner Ravindra Jadeja.
Danielle has been peeping into the account of Yuzvendra Chahal and her comments on his photos is a proof of the same. Fans have started speculating that the couple is dating each other secretly.