14th February is celebrated as the day of "love" but the terrorist organizations didn't let the love flourish and managed to take down with their evil ideas to spread terrorism. The entire nation was shell shocked after a terrorist rammed into the bus carrying 39 CRPF personnels in Pulwama district of Jammu and Kashmir.
Pakistan based terrorist organization- Jaish-e-Mohammed claimed the responsibility of the deadly suicidal attack on the army in which over 40+ CRPF personnels were killed.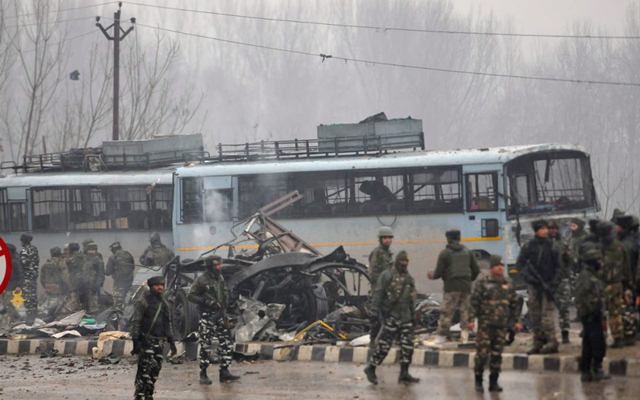 A CRPF convoy of 70 vehicles carrying 2500 soldiers was targeted by an explosives-laden SUV that was being driven by a Jaish suicide bomber identified as Adil Ahmad Dar, a local who resided at a driving distance of 10-20 kilometers from ground zero.
The massive blast left human remains and wreckage scattered on a 100 metre stretch of the highway, slick with snow. Whole nation is condemning the attack and is demanding a counter punch from the government on Pakistan.
Meanwhile, India's sports fraternity have took to twitter to express their grief over the unfortunate happening.
Asian games gold medallist triple Jumper Arpinder Singh said-
Deeply saddened to hear about #PulwanaAttack. My heartfelt tribute to all the brave CRPF soldiers and prayers for the speedy recovery of the injured soldiers ? #RIPBraveHearts #JaiHind pic.twitter.com/d1hmi3AvPd

— Arpinder Singh (@ArpinderSingh18) February 15, 2019
Multi times Grand slam winner tennis star Sania Mirza said-
Saddened at the attack on our CRPF soldiers in #Pulawama ..my sincere condolences to the families.. there is no place for terrorism in the world.. prayers for peace .. #PulwamaAttack

— Sania Mirza (@MirzaSania) February 15, 2019
Freestyle wrestler Babita Phogat said-
पहले देश को ज़रूरत है घर के गदारो को सज़ा देने की ।देशभक्ति से केवल देशद्रोहियों को ही तकलीफ़ हो सकती है।ऐसे लोगो ने अपना इमां धरम सब बेच दिया है । ये वो शांति दूत है जो देश विरोधी ताक़तों को बचाने के लिए कोर्ट जाते हैं। #PulwamaRevenge #CRPFJawans #CRPFKashmirAttack

— Babita Phogat (@BabitaPhogat) February 15, 2019
2018 Asian games gold medallist in 65kg freestyle wrestling Bajrang Punia said-
कल पुलवामा में आतंकियों द्वारा जो बुजदिली और कायरता का परिचय दिया गया है जिसमे हमारे देश के कई वीर जवान शहीद हो गए , इस आतंकी हमले में शहीद हुए सभी जवानों और उनके परिवार के दुख की घड़ी में मैं उनके साथ हूँ????

देश के लिए बहुत बड़ी क्षति?

जय हिंद??#PulwamaAttack #Pulwama pic.twitter.com/AuyQ9W6DLV

— Bajrang Punia (@BajrangPunia) February 15, 2019
Indian cricket team captain Virat Kohli said-
I'm shocked after hearing about the attack in Pulwama, heartfelt condolences to the martyred soldiers & prayers for the speedy recovery of the injured jawaans.

— Virat Kohli (@imVkohli) February 15, 2019
Indian hockey team's ace drag-flicker Rupinder Pal Singh said-
Sad. Angry. Heartbroken.
Thoughts and prayers with the families of our martyrs. #Pulawama

— Rupinder Pal Singh (@rupinderbob3) February 15, 2019
India's shotgun shooter Seema Tomar said-
सर झुके बस उस शहादत में
जो शहीद हुए हमारी हिफाजत में !!?

जय हिंद की सेना ?? #Pulwama #pulwamaterrorattack pic.twitter.com/RAvQx4iTSB

— Seema Tomar?? (@seematomar_) February 15, 2019
2012 London Olympics bronze medallist shuttler Sania Nehwal said-
Shocked to hear the news of the #KashmirTerrorAttack .. my sincere condolences to the families and friends of the martyred CRPF jawans ? ??

— Saina Nehwal (@NSaina) February 14, 2019
Budding Indian cricketer Rishabh Pant said-
The news of terrible & cowardly attack in #Pulwama has left me extremely saddened; My heart goes out to the families of martyrs, may their soul rest in peace.

— Rishabh Pant (@RishabPant777) February 14, 2019
2018 Commonwealth games champion paddler Manika Batra said-
Shocked and saddened to hear the news of the #Pulwama attack on our jawans. My thoughts and prayers are with the victims and their families. @crpfindia #CRPF

— Manika Batra (@manikabatra_TT) February 14, 2019
Indian women's hockey team captain Rani Rampal said-
Deeply saddened to know about the cowardly attack on @crpfindia convoy in #Pulwama. My heart goes out to the families of martyred jawans and injured soldiers. #CRPFJawans

— Rani Rampal (@imranirampal) February 14, 2019