Virat Kohli's captaincy has been under scrutiny after India lost the 2019 World Cup semi-finals and 2017 Champions trophy finals. He has failed to win a multi team event which raises few eyebrows on his captaincy. Meanwhile, former India opener and BJP MP Gautam Gambhir has given his point of view on Virat Kohli "the captain".
Gambhir said that the Delhi lad lead the team well in the World Cup but its still a long way to go for him. The 38-year-old believes that his captaincy has not been upto the expectations because of the presence of Rohit Sharma and Virat Kohli.
"Still a long way to go for him. Kohli was very good in the last World Cup but he has a long way to go. He captains so well in international cricket because he has got Rohit Sharma, he had MS Dhoni for a long time. Captaincy credentials are noticed when you are leading a franchise, when you do not have other players supporting you," Gambhir was quoted as saying by Hindustan Times.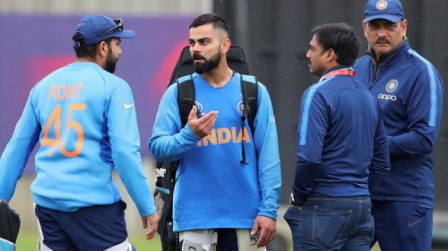 Gambhir gave the example of successful captaincy reign of MS Dhoni and Rohit Sharma in IPL. Dhoni has led CSK to three trophies while Rohit changed the luck of Mumbai Indians when he was made the captain in 2013 and since then has led them to four IPL trophies.
"I have been honest whenever I have spoken about this. See what Rohit Sharma has achieved for Mumbai Indians, see what Dhoni has achieved for Chennai Super Kings. If you compare that with RCB, the results are there for everyone to see", Gambhir added.
Virat Kohli will have a chance of redemption when he leads India in the 2020 Asia Cup and 2020 World T20 which will be played in Australia. One ICC or ACC trophy will help the cause of Virat Kohli "the captain".