Gururaja wins first medal for India at Gold Coast Commonwealth Games 2018, as he wins silver in Men's 56kg weightlifting event at the multi-sport event. He lifted a total of 111kg in the snatch, the 28-year-old from Karnataka failed to lift in the first two attempts of the clean and jerk, but added 138kg in his third attempt making a total lift of 249kg – achieving his personal best. In 2017, he had won a Commonwealth Championships bronze in Australia.
#CWG2018 : A good news to actually make it "good morning" for every India. #GC2018.
As #Gururaja wins silver in men's weightlifting #GC2018Weightlifting pic.twitter.com/gs7DSpDfUs

— Digitalsporty.com (@digitalsporty) April 5, 2018
Malaysia's Muhammad Izhar Ahmad won gold with a total score of 261kg. He also made a Commonwealth Games record in the process, while bronze went to Sri Lanka's Chaturanga Lakmal (248kg).
Gururaja began weightlifting in 2010 and won gold in the Commonwealth senior weightlifting championship, lifting a personal best of 249kg (108+141) in Penang(2016). He also won gold at the South Asian Games.
He is a low-ranking Indian Air Force employee, and is a quintessential Indian sports story of immense hardships and just a tiny bit of luck.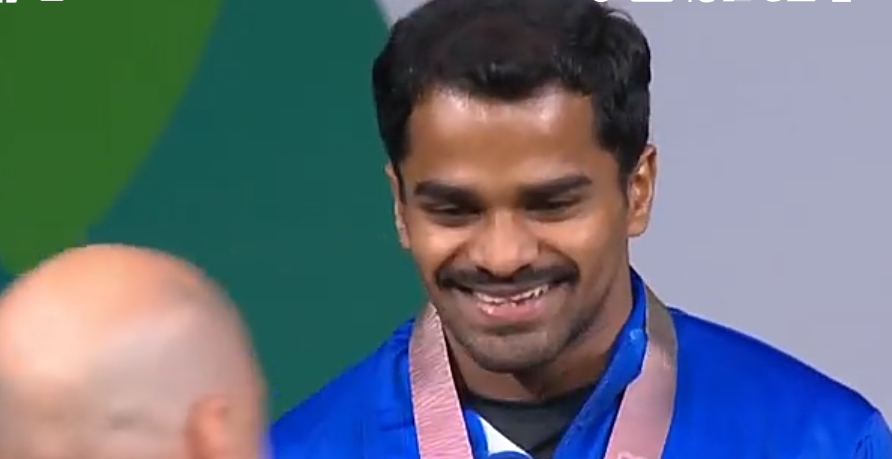 Follow| Live Updates: India at Day 1 of Gold Coast Commonwealth Games 2018
Gururaja hails from Kundapura in coastal areas of Karnataka. He started his sporting journey as a wrestler, and later switched to powerlifting and then weightlifting. He is a son of pick up driver.
You may like| Full schedule of Indian athletes on day 1 of Gold Coast Commonwealth Games 2018.
Gururaja wins first medal for India at Gold Coast Commonwealth