The domestic season of 2021-22 is going to be very challenging and busy for the Indian cricket team and they will have no breather after the conclusion of T20 World Cup in UAE and Oman. Indian team will host four nations in the domestic season and the packed schedule will surely test the fitness of the players.
The BCCI released the home schedule of the Indian team in the Apex Council meeting held on Monday. Team India will play series against New Zealand, West Indies, South Africa and Sri Lanka. The home season will begin with a T20I series against New Zealand and end with a T20I series against South Africa in June.
Each and every series has T20 matches in order to give more game time to men in blue in the shortest format before they take the field in the T20 World Cup 2022 in Australia. Every test match will be played under the rules of ICC World Test Championship.
New Zealand tour of India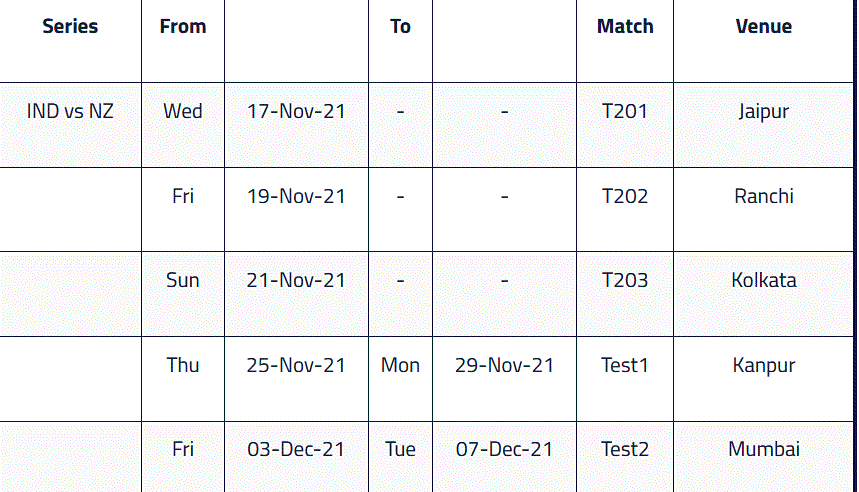 The three match T20 series will be played on 17, 19 and 21 November in Jaipur, Ranchi and Kolkata respectively. International cricket will return to Kanpur after several years with the first test being played at Green Parks from 25 November with the conclusion of the series with another test at Mumbai from 3 December.
West Indies tour of India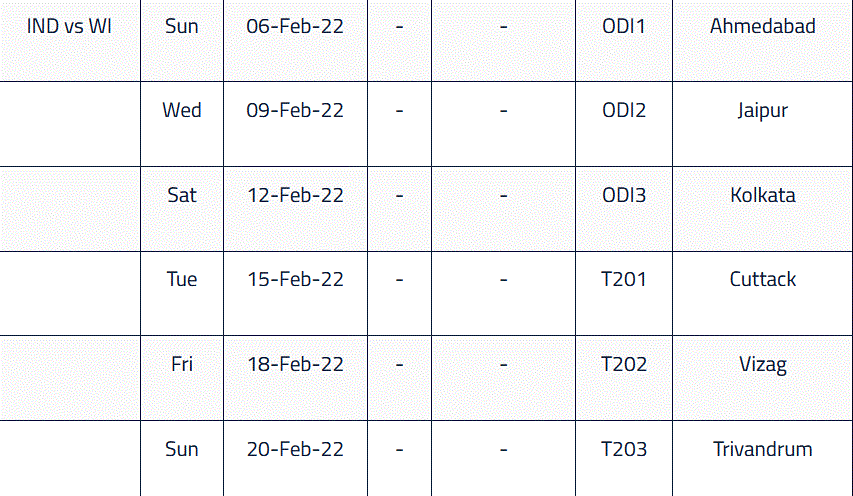 After a month of rest, Team India will return to action in a series against West Indies. The series will start with the ODIs with the matches scheduled on 6, 9 and 12 February at Ahmedabad, Jaipur and Kolkata respectively. It will be followed by a three match T20 series scheduled on 15, 18 and 20 February at Cuttack, Vishakapatnam and Trivandrum respectively.
Sri Lanka tour of India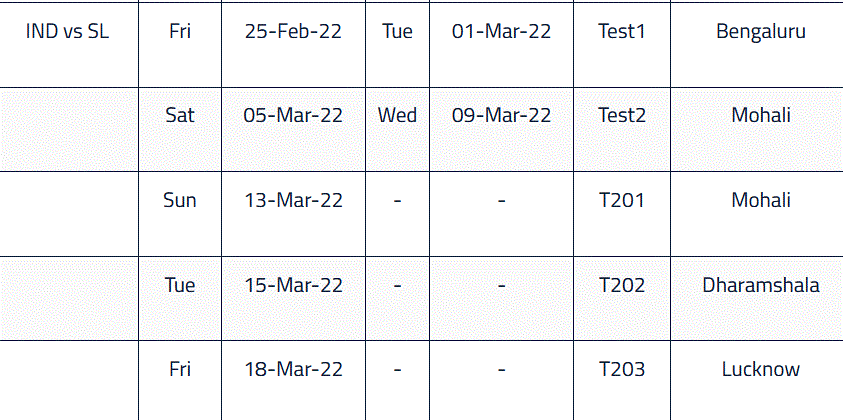 Team India will square off against a depleted Lanka in a two match test series with the first test scheduled from 25 February-1 March at Bengaluru and second test match scheduled from 5-9 March at Mohali. It will be followed by a three match T20 series with the matches scheduled on 13, 15 and 18 March at Mohali, Dharamshala and Lucknow respectively.
South Africa tour of India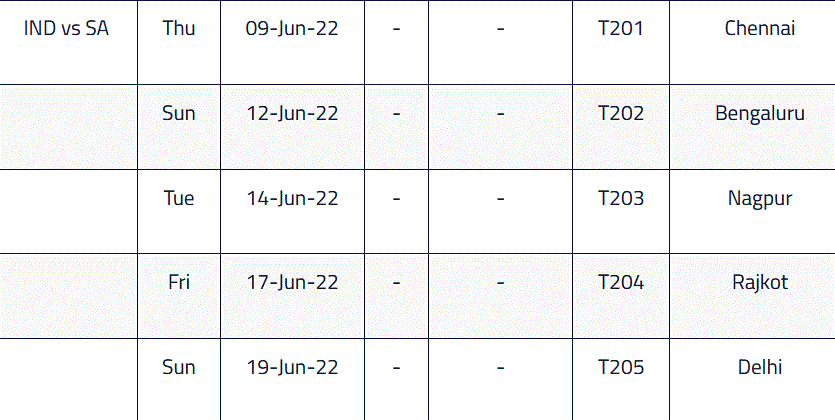 April and May window will be used for IPL after which Team India takes on South Africa in a five match t20 series.
India tour of England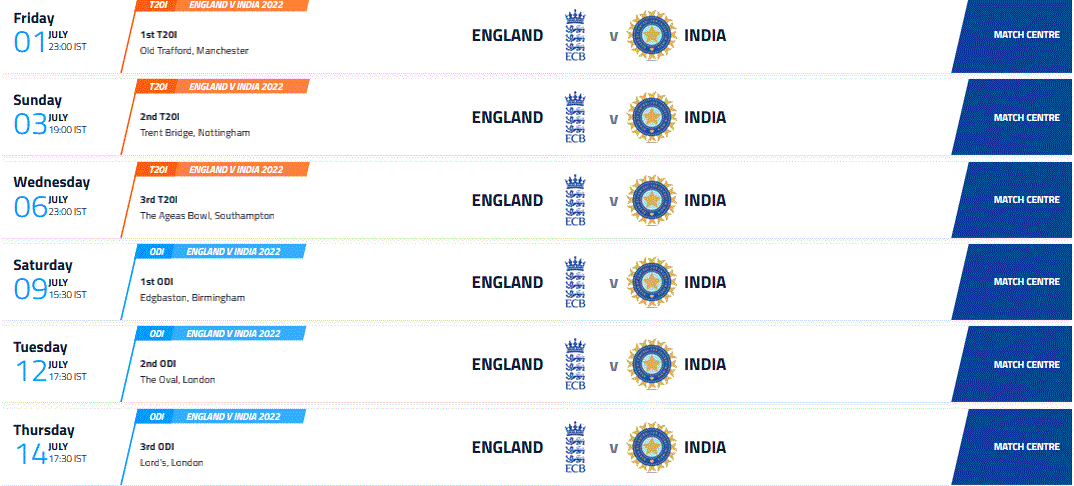 India will travel to England for a limited overs series and the action starts at Manchester, where India was slated to play the final test match of five match test series but didn't field their team owing to Covid scare in the team. The tour will have three T20s and as many ODIs.
India tour of West Indies 2022
Matches: 3 ODI and 3 T20in July and August- TBD
Asia Cup 2022
Matches: 12 ODI and 1 Final match in September
Venue: N/A
Australia tour of India 2022
Matches: 4 Test and 3 T2- September to November
India tour of Bangladesh 2022
Matches: 2 Test and 3 ODI- November
Sri Lanka tour of India 2022-23
Matches: 5 ODI in December and January