Indian cricket team schedule in 2018 looks a pack one. Although, 2017 was a year to remember for the Indian team as they ended it without losing a bilateral series, barring the one-off T20I against West Indies. India have won 9 consecutive Test series under the leadership of Virat Kohli and would be looking to make it 10 when they kick off their campaign with the first Test against South Africa in Cape town.
After playing a majority of their Cricket at home, in Sri Lanka and in the Carribean islands, the Indian team will have their task cut out in 2018 as they are scheduled to tour South Africa and Australia. Indian cricket team are all set to welcome the New Year- 2018 with loads of accolades under their belt. Undefeated in a bilateral series in 2017, Team India have bagged 37 wins out of 53 matches tallying a 70% win rate.
And as the gruelling South Africa series kicks off, here's a look at the Indian cricket team schedule in 2018:
India's Tour of South Africa
India will begin the new year with the tour of South Africa with the first Test commencing on the 5th of January. Men in Blue will play 3 Tests, 6 ODIs and 3 T20Is in the African nation. India have won just 2 of the 17 Tests played in South Africa, a record Kohli and company will look to set straight. Here's Indian cricket team schedule for Proteas tour.
1st Test: Cape Town- Jan 5-9
2nd Test: Centurion- Jan 13-17
3rd Test: Johannesburg- Jan 24-28
1st ODI: Durban- 1st Feb
2nd ODI: Centurion- 4th Feb
3rd ODI: Cape Town- 7th Feb
4th ODI: Johannesburg- 10th Feb
5th ODI: Port Elizabeth- 13th Feb
6th ODI: Centurion- 16th Feb
1st T20I: Johannesburg- 18th Feb
2nd T20I: Centurion- 21st Feb
3rd T20I: Cape Town- 24th Feb
Nidahas trophy: Tri Series (Sri Lanka, India, and Bangladesh)
To mark the island nation Sri Lanka's 70th Independence anniversary, India will be facing hosts Sri Lanka and neighboring country Bangladesh in a T20 tri-Series tournament starting from March 8 and three teams will play each other twice while the top two will play in the final on March 20. The R Premadasa Stadium is the only venue that will host all seven matches.
India's tour of England
The last time India were in England they failed to defend their ICC Champions Trophy title after losing to arch-rivals Pakistan in the final. Virat Kohli and co will look to do well in the English conditions as they take on the hosts in a series which consists of three-T20I followed by three ODIs and five Tests that will go on till September 11. India may play two ODI matches against Ireland in Dublin.
1st T20I: Manchester- 3rd July
2nd T20I: Cardiff- 6th July
3rd T20I: Bristol- 8th July
1st ODI: Nottingham- 12th July
2nd ODI: London- 14th July
3rd ODI: Leeds- 17th July
1st Test: Edgbaston- August 1-5
2nd Test: London- August 9-13
3rd Test: Nottingham- August 18-22
4th Test: Southampton- August 30-September 3
5th Test: London- September 7-11
Asia Cup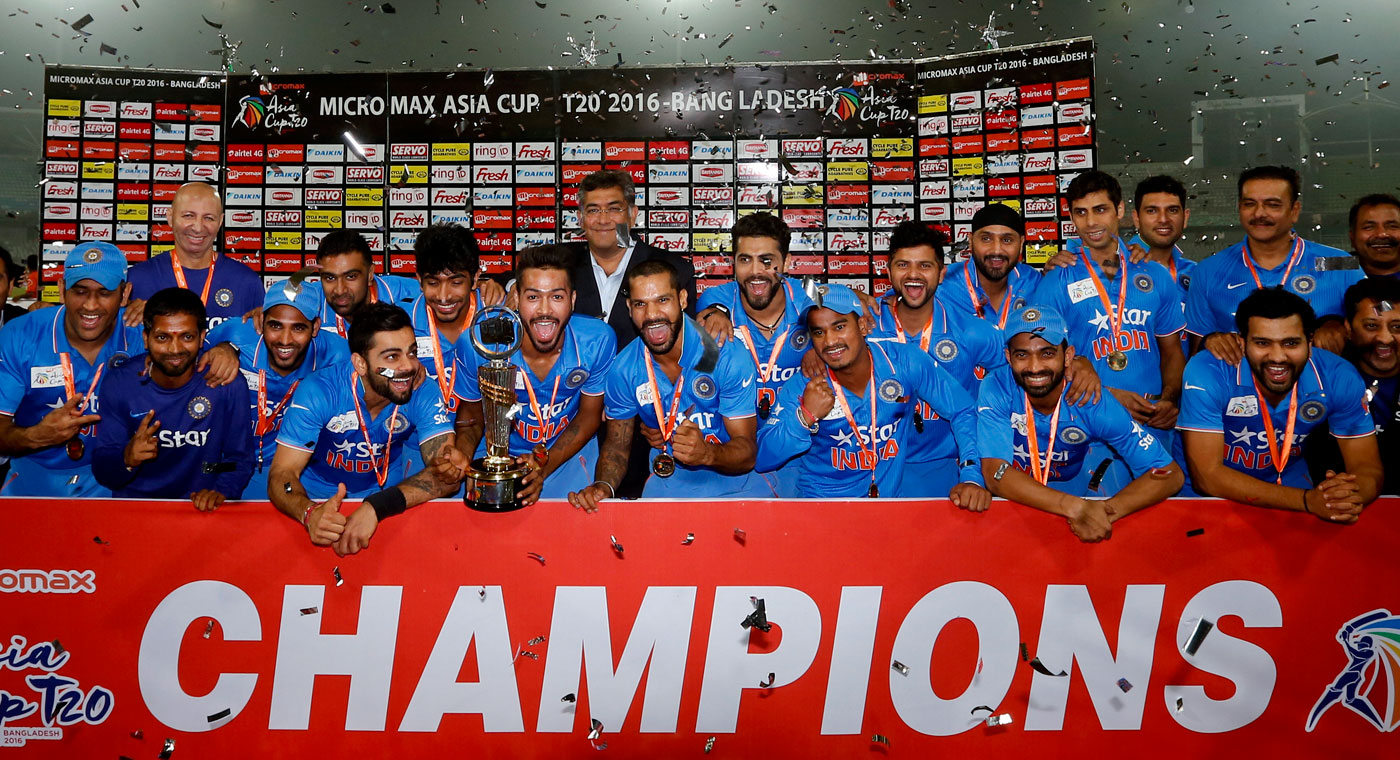 India is the current champion of Asia Cup. Indian cricket team schedule
Indian stars will not have any time for rest as the Asia Cup will begin shortly after their tour of England.  The other teams to take part in the tournament are Afghanistan, Bangladesh, Sri Lanka and Pakistan. The sixth team to feature in the tournament will be winners of 2018 Asia Cup Qualifier. The tournament will tentatively start on September 15 and will go on for the next two weeks with the final being scheduled for September 30.
Related: List of Top 5 bowlers in ODI cricket from 2017.
With conflict of India not hosting Pakistan, the tournament may shift to Sri Lanka or Bangladesh.
India vs West Indies
The BCCI is yet to confirm this tour, but according to the ICC's FTP, India will host the men from the Caribbean islands for 3 Tests, 5 ODIs and a lone T20I. Series begins in October and concludes in November.
India's tour of Australia
India will end the year, with a tour Downunder. While India are expected to play four or more Tests, the homeboard – Cricket Australia – are yet to announce the dates of the series. India are likely to play at least 4 Test matches. The series commence from November 2018 to February 2019.