Indian contingent will eye a good start to their campaign on the opening day of the competition, by clinching several medals. Up first, Indian badminton team will square off against Sri Lanka in mixed team badminton event. High hopes will rest on current world champion weightlifter and silver medalist of last edition, Mirabai Chanu. Indian cyclist will also be in action on the opening day followed by qualification round of Gymnastics featuring Ashish Kumar. You can get the full schedule for day 1- here India at day 1 of gold coast commonwealth games 2018
India at Day 1 of Gold Coast Commonwealth Games 2018
18:00 pm: India's day comes to a close, as they win 1 gold and 1 silver courtesy of Mirabai Chanu and Gururaja respectively. Thankyou for following the updates, do join us tomorrow. Till then, watch the schedule of Indian athletes in action on day 2- here
---
17:35 pm: Good news coming from Gymnastics, Rakesh Patra has qualified for the Rings apparatus final which is scheduled for April 8. Yogeshwar Singh will feature in the all-round final on April 7
---
17:20 pm: India lose to Cameroon in Men's Basketball
---
17:17 pm: India clean sweeps Pakistan 5-0 in mixed badminton team events.
---
India are sixth in the latest Medal Tally with two medals from weightlifting(1 gold, 1 silver). England tops the medal tally with 9 medals(5 golds, 3 silver and 2 bronze).
---
17:00 pm: Swimming: Srihari Nataraj clocks 56.65sec to finish eighth in men's 100m backstroke semifinal, fails to qualify for the finals.
---
16:50 pm: LAWN BOWLS: India beat Niue 29-6 in Men's Pairs Section D – Round 2. However, India lose to Malta 15-20 in women's four sectional play-section b, Round 2
---
16:43 pm: Malaysia's Muhammad Aznil Bidin wins gold in men's 62 kg weightlifting, with a total lift of 288 kg. India's Muthupandi Raja finished 6th with total lift of 266. With the gold, Malaysia climbs third spot in medals tables, India slips to sixth place.
---
16:41 pm: Not good news in squash as Harinder Pal Sandhu loses 8-11, 6-11, 1-11 to Ivan Yuen of Malaysia in men's singles Round of 32.
---
16:30 pm: Swimming Virdhawal Khade clocks 24.50sec to finish eighth in the men's 50m butterfly semifinal 2, fails to qualify for the finals.
---
16:27 pm: India men's team beat Ireland 3-0. Sathiyan and Sharath Kamal won their respective singles matches. Sathiyan Gnanasekaran-Harmeet Desai won their doubles match.
---
16:20 pm: Saina Nehwal beats Pakistan's Mahoor Shahzad 21-7, 21-11 in the Mixed Team badminton event, as India takes an unassailable 3-0 lead, with two more matches to play.
---
16:07 pm: India lose 57-66 to Jamaica in women's Preliminary Round Pool B match of basketball.
---
15:53 pm: Kidambi Srikanth beats Pakistan's Murad Ali 21-16, 22-20 in badminton mixed team event. With Srikanth's win, India take 2-0 lead against Pakistan in the match. Saina Nehwal faces Mahoor Shahzad next.
---
15:44 pm: India's Manoj Kumar beats Osita Umeh of Nigeria in Men's boxing 69 kg Round of 32
---
15:05 pm: Saurav Ghosal, one of India's best medal hopes, has lost to Chris Binnie of Jamaica in Round of 32
---
15:00 pm: Joshna Chinappa beats Papua New Guinea's Lynette Vai 3-0 and Dipika Pallikal beats Trinidad and Tobago's Charlotte Knaggs 3-0 in women's singles round of 32.
---
14:35 pm: Virdhawal Khade and Srihari Nataraj have qualified to compete in Semifinal 2, in swimming.
---
13:58 pm: BASKETBALL: India vs Jamaica, women's preliminary round Pool B match is underway.
---
13:50 pm: TABLE TENNIS: India women's team beat Wales 3-0 in match 2.
---
12:45 pm: India tops the medals tally currently with 1 gold and 1 silver.
---
12:00pm: In snatch, Mirabai lifted 80, 84, 86 kgs in her three attempts respectively, while in Clean and Jerk she lifted 103, 107 and 110 kgs in her three lifts respectively. With a total of 196 kgs, with this Chanu also set a Commonwealth Record and a Commonwealth Games Record.
#GC2018: Congratulations #MirabaiChanu . India is proud of you.#GC2018Weightlifting #CWG2018
Follow live- https://t.co/ENgMOX2wrc pic.twitter.com/JYADePc4Ie

— Digitalsporty.com (@digitalsporty) April 5, 2018
---
11:35 am: Gold For India
As easy as it gets! What a performance by Saikhom Mirabai Chanu, she becomes the first gold medalist from India, by breaking Commonwealth record and Commonwealth Games record in snatch(86 kg), Clean and jerk(110 kg), making it 196 overall.
Outstanding! Massive congrats to #MirabaiChanu who has claimed India's first gold at #GC2018! #GC2018weightlifting #SHARETHEDREAM https://t.co/mILY2bVuYi

— Gold Coast 2018 (@GC2018) April 5, 2018
---
10: 35 am: Mirabai Chanu breaks the Commonwealth games and personal best record to lift 86 kg in snatch event, as she tops the chart. Probable contender for gold medal, as clean and jerk event gets underway.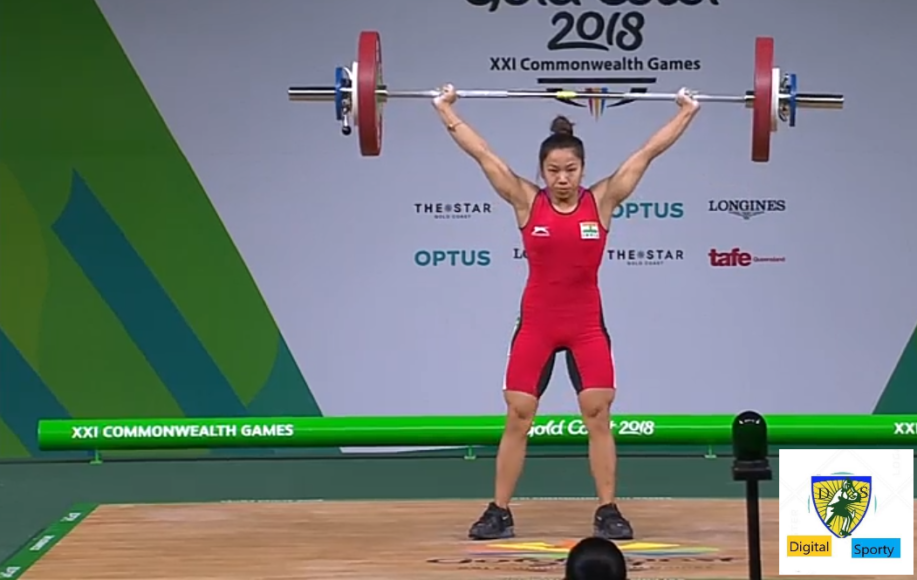 ---
10:10: Sandhu beat Stafford in the round of 64, advances to the next round.
---
10: 00am: 48kg women's weightlifting competition is underway, world champion Mirabai Chanu will be India's challenge in the event.
---
09:50 am: Harinder Singh Sandhu leads Stafford 2-1 in the men;s singles round of 64. The fourth game is under way, can he win and advance to the next round.
---
9: 00 am: Lawn Bowls: India's Pinki loses 11-21 against Katherine Rednall of England in Women's Singles Section D – Round 2
---
8: 44 am:Table Tennis: India's Harmeet Desai and Sathiyan Gnanasekaran beat Yuvraaj Dookram and Aaron Wilson of Trinidad and Tobago 11-9, 11-4, 11-4 in Men's Team – Group 1
---
8: 32 am: Table Tennis: India's Sathiyan Gnanasekaran beats Aaron Wilson of Trinidad and Tobago 11-5, 11-5, 11-4 in Men's Team – Group 1
---
8: 30 am: Virdhawal Khade with a time of 24.52 secs is through to the semis of the MEN's 50m BUTTERFLY
Srihari Nataraj with a time of 56.71 secs is through to the semis of the MEN's 100m BACKSTROKE
---
08:15 am: India have been really impressive in the mixed team event in badminton as they thrash Sri Lanka 5-0. India will next face Pakistan today and the event is scheduled at 2.30 pm.
---
First medal for India
7:40 am: India have won the first gold at CWG 2018, as Gururaja wins silver in 56kg weightlifting. He Lifted a combined weight of 249kg – 111kg in snatch and 138 kg in clean and jerk.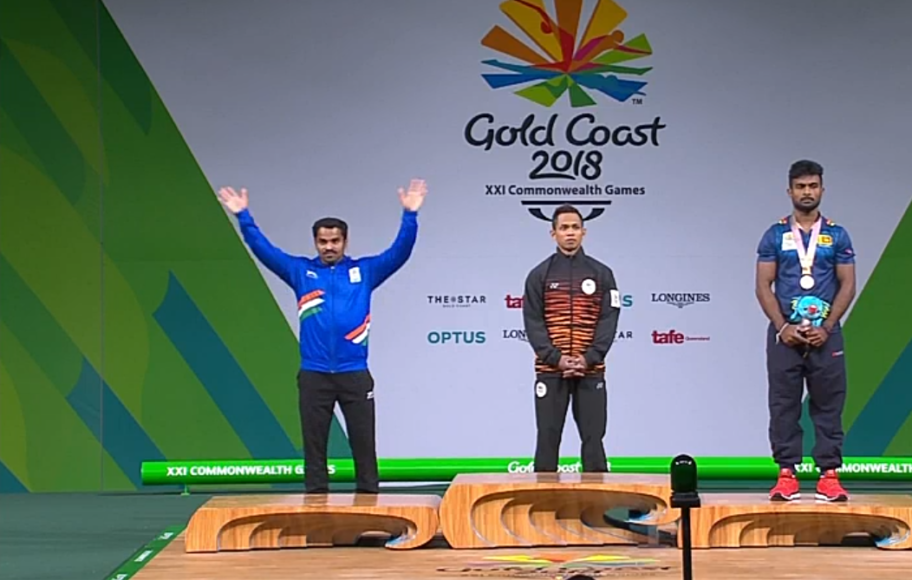 ---
7:10 am: Good news coming from badminton court, as India take an unassaible 3-0 lead over Sri Lanka. Wins for India in mixed doubles, men's singles and men's doubles. Women's singles and women's doubles still to come
---
6:45 am: Bad News for India! Indian woman's hockey team lost their opening encounter to Wales 2-3. Late defensive lapse costed India the match.