Mahendra Singh Dhoni has been instrumental in shaping the career of a young Virat Kohli who was often criticized for his arrogant behaviour in the initial days. Dhoni gave him a chance at the number 3 position and later believed in him to play in the 2011 world cup winning squad. Virat failed to fire in the 2014 England test series, it was back then when Dhoni stepped in and pleaded the selectors to not drop him from the team and the outcome has been nothing short of a miracle for Indian cricket.
You may like: Famous cricketers who turned Politicians
For a man who watched his transition from a young funky boy to grow as an Indian captain. The journey has been simply outstanding and the former India captain said the current India skipper is close to being a legend for all the prowess he has shown in the last few years.
He is close to being a legend- Dhoni
"He (Kohli) is the best, and has already reached a status, where he is close to (being) a legend. So I am very happy for him. And the way he has batted everywhere and in the last few years, he has just been brilliant," Dhoni said at the app launch of 'Run Adam".
Carrying the hopes after Dhoni's retirement from test cricket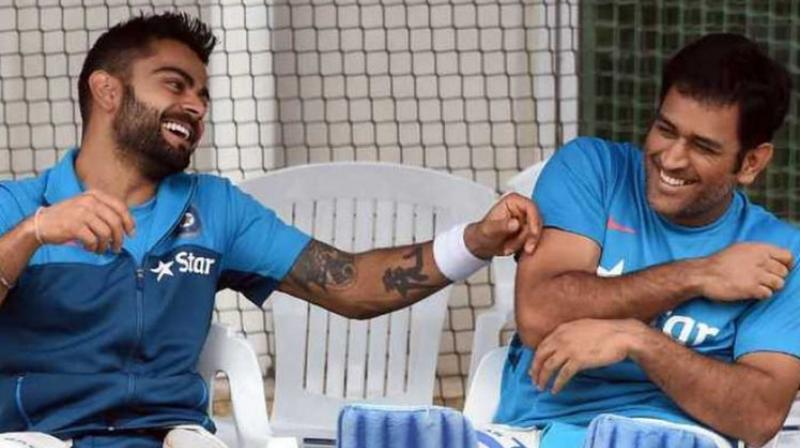 Dhoni retired from the test cricket in the third test of the 2014 Australia tour when India was trailing 2-0 in the series and Dhoni faced all the criticism for team's poor show in Australia. The selectors made Virat Kohli the test captain back then and he took the team forward.
"He keeps taking the team forward and that is what you want from a leader. So all the best to him," Dhoni said.
Virat is currently in England, playing in a gruelling five match test series. His efforts of scoring 200+ runs in the first test meant India lost by a slender margin of 31 runs.