MS Dhoni has been away from the cricket field from last four months and he last featured in India's semi-final encounter against New Zealand in the 2019 world cup. Ever since then, Dhoni has been unavailable for selection and it may be the matter of time, when the veteran keeper batsman hang his boots.
Meanwhile, according to media reports, the former Indian captain may be seen doing commentary rather than stepping on to the field. All eyes are on the historic day-night Test match against Bangladesh starting at the Eden Gardens in Kolkata from 22 November this month. At the same time, Dhoni may share the commentary box and make it a golden moment for the fans when he speaks about cricket.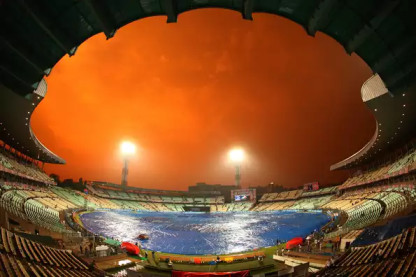 Its worth mentioning that a two match test series will be played between India and Bangladesh, in which the second test will be Day-Night at the Eden Gardens. This will be the first time, when the Indian team to play in the day night test with the pink ball. The format was first introduced in Bengal domestic game and later BCCI gave it a nod by contesting 2017 Duleep trophy in day/night format at Lucknow's Ekana Stadium.
In order to make this Test more memorable, official broadcasters Star Sports is willing to make Dhoni a part of this historic match. Star Sports has requested BCCI President Sourav Ganguly to call all former Test captains of Team India.
"Invite India Test captains for Day 1 & 2 of the Test. All captains at the ground along with (Virat) Kohli and the rest of the team as well as the dignitaries line up for the anthem. Captains appear on commentary as guests through the day to recollect their favorite moments from India's Test history. Down memory lane segments recorded with individual captains are played on the big screen at the ground in breaks Day 4 onwards," the Star Sports proposal to BCCI says as per India Today.
Star Sports' motive is that all the former captains stand for the national anthem along with the on-field captain Virat Kohli and the rest of the team. Also, throughout the day, all the former captains can come as guest commentators and narrate about the important moments of their Test history. According to the report, an invitation has been sent to Dhoni for this. If this happens, Dhoni can be seen doing a commentary for the first time.