Former Team India captain Mahendra Singh Dhoni arrived to his hometown Ranchi on Thursday night. Dhoni has come to Ranchi for the first time after army duty in the difficult terrain of Awantipura in South Kashmir. The 38-year-old greeted the fans and also clicked selfie with them. Dhoni was seen riding his new jeep Grand Cherokee. Its worth mentioning that his wife Sakshi posted a picture of the car on Instagram and wrote "miss u Mahi".
Sakshi went to the Birsa Munda airport in Ranchi to receive her husband who was returning from Jaipur but some personal issues are troubling her. Sakshi has been staying in Ranchi for the past few days and power cuts are not going well with her. She took to twitter to express her unhappiness.
"People in Ranchi experience power cuts every single day. It ranges from four to seven hours daily. There has been no electricity for the past 5 hours today [September 19]. There is no reason for power cut today as the weather is good and there is not festival," she wrote in a tweet.
#ranchi pic.twitter.com/OgzMHoU9OK

— Sakshi Singh ??❤️ (@SaakshiSRawat) September 19, 2019
The veteran of 350 ODIs made himself unavailable for the recently concluded West Indies tour by announcing that he will join his army battalion. He trained with his parachute regiment in Bengaluru and then headed to Kashmir where he stayed till 15th August. MS Dhoni guarded and patrolled in the dangerous terrain of South Kashmir's Awantipora district which is well known for terror activities.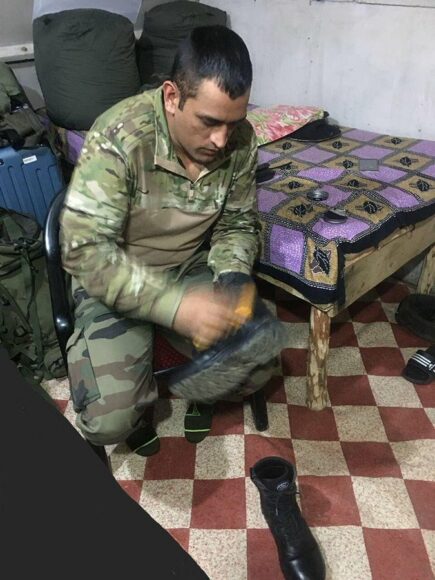 The unit where Dhoni was deployed had soldiers from different battalions like Rajputana, Gorkha, Sikh, Jatt and Jammu and Kashmir rifles. The unit consisted of 700 army personnels and Dhoni did duty in both day and night in two shifts.
He again made himself unavailable for the T20 series against South Africa and is expected to return for the ODI series against West Indies in December,