In a happening situation in World cup final at Moscow, French President Emmanuel Macron dabs and celebrated after France pipped Croatia in the world cup final 4-2. Emmanuel, who used to play as a left back during his college days was pictured cheering from the stadium. He was also spotted getting from the seat in excitement when the French team scored.
French President came to see the epic final and he was accompanied by Russian President Vladimir Putin, Croatian President Kolinda Grabar-Kitarovic and FIFA President Gianni Infantino.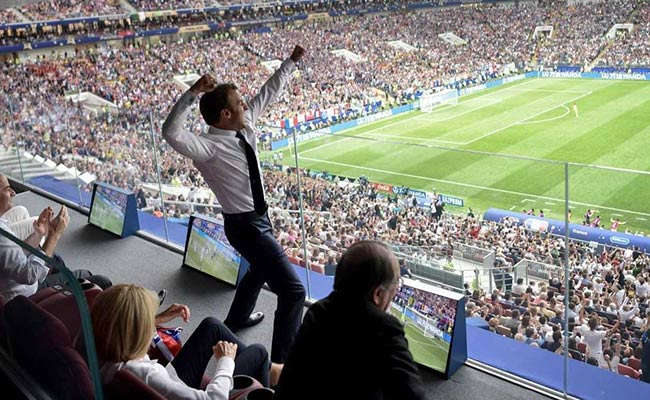 Also read: Watch photos- Hot female fans in FIFA World Cup 2018
After the final whistle, Macron rushed to the pitch in the pouring rain without an umbrella. He was at the trophy presentation, hugging and shaking hands with the players and match officials. Macron found himself on the pitch at the Luzhniki Stadium without an umbrella during a fierce downpour that started during the trophy presentation — unlike Putin who was sheltered by an aide.
"MERCI" he wrote in a one-word tweet after the match, which gave France its second ever world cup.
Widely shared footage posted on Twitter later showed him with French defender Benjamin Mendy and star midfielder Paul Pogba in the changing room attempting to "dab" — a craze thought to have been started by Atlanta rappers.
"Mr President, what's the new move nowadays?" Mendy says to Macron, "The dab!" he adds, as Macron tried two attempts at the trending move.
Watch the video:
President Emmanuel Macron dabs with Benjamin Mendy & Paul Pogba. What a world, what a day. pic.twitter.com/CcPuYIKDgQ

— Get French Football News (@GFFN) July 15, 2018

Macron will welcome the returning French team at the Presidential palace in Paris on Monday. He also met the team when they left for their trip to Russia, last month.
Read match reports: 2018 World Cup final- A young France thump Croatia in a goal fest