Ronda Rousey made her WWE debut in a shocking manner when she confronted Alexa Bliss, Charlotte Flair and Asuka, pointing her hands at the Wrestlemania logo that was hanging over the spectators arena at 2018 Royal Rumble. The baddest woman on the planet build a feud with the Authority figures- Triple H and Stephanie McMahon and teamed alongside Kurt Angle to make her in-ring debut at Wrestlemania 34, where she emerged victorious.
She further challenged Nia Jax and Alexa Bliss and finally emerged as the RAW women's champion. The 32-year-old became a force to reckon on the red brand before her feud with Becky Lynch in the build to Survivor series, where Raw superstars compete against SmackDown superstars. Lynch was ruled out of the match due to injury and Rousey faced Charlotte Flair at the pay per view, where she again emerged victorious.
The WWE Universe was willing for a Becky vs Rousey showdown at this year's Wrestlemania and the company didn't disappoint them but added a stipulation by adding Charlotte Flair(SmackDown women's champion) to the match with the winner taking both the titles.
It was speculated to be the last match of Rousey in WWE and it surely didn't went the way for the baddest woman on the planet. She was pinned for the first time as Becky Lynch emerged victorious and took both the titles.
Ronda Rousey sidelines herself from WWE
In 2018, WWE hall of famer Ric Flair indicated that Rousey has just signed a one year deal with WWE and she would leave as she is planning to be a mother in the coming future. The rumours were cleared by Rousey when she gave an interview to ESPN in January.
"I honestly don't know why [anyone] feels like [they're] an authority to speak on the plans for my uterus. If I responded every single time the world speculated what I was doing with my womb I would not have a free moment in the day," Rousey said.
"I really don't feel like I should have to respond to that kind of thing. Leave me and my reproductive organs alone," she added.
It was certain that Rousey will walk away from the company but the question was.. When ? She has again came forward and made the things very clear as far her personal life is concerned.
The former UFC champion shared a photo on Instagram, showing her and husband Travis Browne kissing with the caption , "impregnation vacation."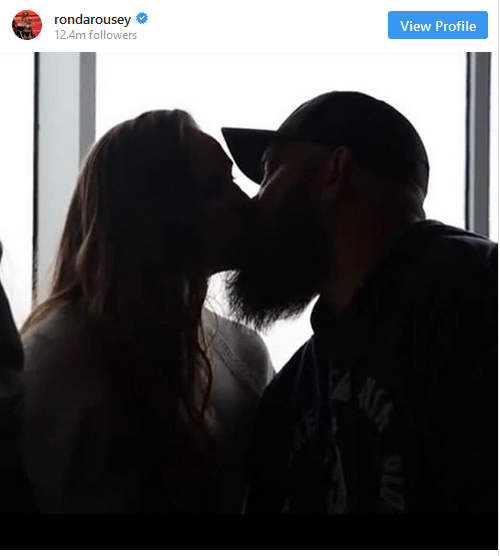 It should be clear that the former RAW women's champion isn't returning anytime soon and if she does then will it be WWE, AEW or UFC ? Only time will tell.