India's Sathish Sivalingam wins gold in men's 77 kg weightlifting at CWG 2018. The man from Vellore in Tamil Nadu was the defending champion and one of the favorites to win the gold and retain his title. The Indian lifter didn't disappoint and finished 2nd in the snatch event, giving ray of hope to Indian fans for actually a good morning news yet again from Weightlifting. He lifted 136 in the first attempt, 140 in second attempt and 144 in final attempt to finish second in snatch event, behind Jack Oliver of England with a best lift of 145 kg, just 1 kg more than Sivalingam.
Effortless Indian lifted 169 in the first attempt of clean and jerk to take the lead, he didn't look back from then and lifted 173 in his second attempt to make a total of 317 kg(144+173). On the other hand, England's Jack Oliver faltered when it mattered the most, as he failed to lift the weight in 2nd and 3rd attempt to give Sivalingam the gold, as he took the silver with a total of 312(145+167), Australia's Francois Etoundi won the bronze win a total of 305(136+169). Sathish didn't opted for his third and final attempt in clean and jerk event.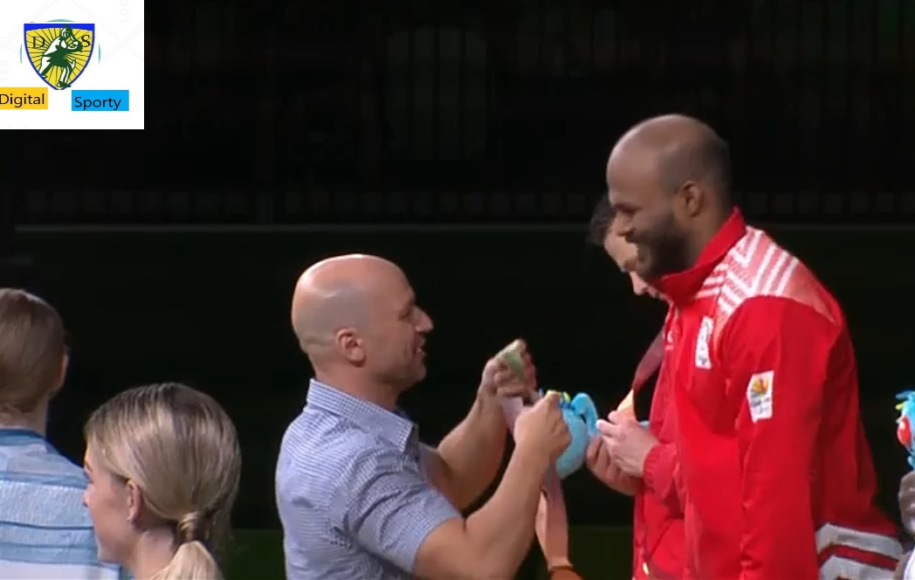 Sathish did his schooling in Government Higher Secondary School, Sathuvachari. He works as a clerk in Southern Railways Chennai. The 25-year-old was born to Sivalingam, an ex-serviceman who won gold medals at national level and now works as a security guard at VIT University, Vellore.
Sathish qualified for the 2016 Rio Olympics in the Men's 77 kg category, where he finished 11th in the field of 14 lifters.
To put Sivalingam's gold in perspective, he was the first from India's weightlifting contingent to highlight how the team has been missing a physio and massuer to help the lifters recover in beetween their lifts. But Indian weightlifters have pushed the odds aside and brought laurels to the country by winning 5 medals(3 gold, 1 silver and 1 bronze).
Men's 77 kg weightlifting at Gold Coast CWG
Sathish Shivalingam(India)- Gold
Jack Oliver(England)- Silver
Francois Etoundi(Australia)- Bronze
Sathish Sivalingam wins gold in men's 77 kg weightlifting at CWG 2018