Saina Nehwal biopic to be directed by Amole Gupta, starring Shraddha Kapoor,
The sports is India has been on a rise in the recent times. The Sports – Bollywood duo has always been a sheer joy for ardent sports fans as well as for movie buffs. Biopic of players like Milkha Singh, Paan Singh Tomar and MS Dhoni have allready seen a huge box office success and huge earnings.
"Saina Nehwal Biopic"
Now , Shraddha Kapoor hints next biopic on famous Indian Shuttler and 2012 London Olympics bronze medalist "SAINA NEHWAL" .  In which she will play the role of Saina, a tweet from her twitter account confirmed the same.To promote her latest movie" Half girlfriend" she wrote "Shraddha Riya Somani"  in her twitter name display, but she removed it yesterday and posted this picture . This clearly indicates that she has started shooting for this biopic , directed by Amole Gupte.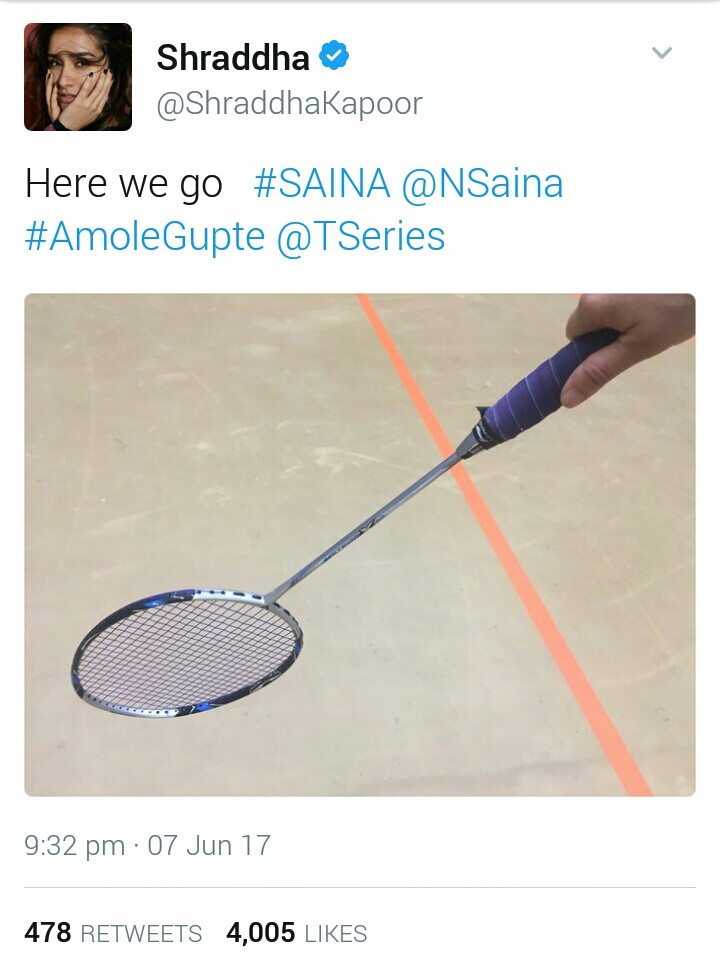 It will be interesting to see how Shraddha portrays the role of this poster girl of Indian badminton. India has produced some champion shuttlers like Pulela Gopichand , Prakash Padukone, Syed Modi but they failed to bag a medal in Olympics. When badminton was on a low in India ,then was the time when this star from Prakash Padukone's academy in Bangalore rised and made to the quarter final in 2008 Olympics. But it was the London Olympics of 2012 in which she created history by becoming the first Indian to clinch a medal in badminton at the Olympics,she later went on to become the world number 1,under the coaching and guidance of Vimal Kumar.
Her vast success at international arena influenced many youngsters to take up the game and produced some of the champion players for India who have went on to take Indian badminton to new heights.
Fans would be eager to watch the inspirational story of Saina Nehwal on the silver screen.