Former Indian captain Mahendra Singh Dhoni has been away from the team since the World Cup in semi-finals after losing to New Zealand. He made himself unavailable for West Indies tour as he served the army in the terrorist prone area of South Kashmir but he again made himself unavailable for South Africa T20 series which has raised many questions.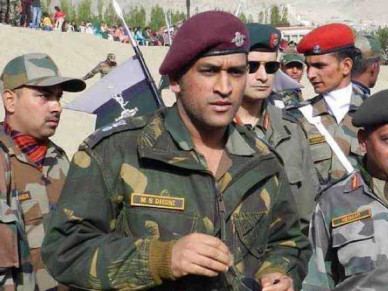 In the matter of Dhoni playing and retiring, many veteran players have put forth their point. On one hand, the team management, selectors and captain Virat Kohli is denying the retirement plans of Dhoni. Meanwhile, former India great Sunil Gavaskar has also rekindled the discussion by giving a new statement on Dhoni's retirement.
Gavaskar has said in an interview on an English channel that Dhoni's time in international cricket is over and Indian team should think ahead of the World Cup winning captain.
Gavaskar's statement came at a time when there is a lot of discussion about Dhoni's international career.
"Dhoni's time is up. With due respect, the time has come. India should look beyond. With the greatest of respect to Dhoni, I think he should be going without being pushed out," Sunil Gavaskar told India Today.
Indian captain Virat Kohli has said in an interview that the decision of retirement rest upon MS Dhoni and he is still "very valuable" for the Indian team.
"Look, the experience is always going to matter whether you like it or not. I mean there are a numerous number of times people have given up on sportsmen and they have proved people wrong and he (Dhoni) has done that many times in his career as well. As long as he is available and continues to play, he is going to be very valuable," Kohli said.
"When you decide to stop playing is an absolutely individual thing, and no one else should have an opinion on it, that's what I think," he added.
The veteran of 350 ODIs is now expected to return for the ODI series against West Indies in December.