Pakistan celebrates its Independence Day on 14 August but for Indian cricket, this day is memorable for a special reason. From the point of view of Indian cricket, it made sure that Pakistan's Independence Day was made memorable and its none other than the "great" Sachin Tendulkar behind it. On this day, the world including India realized that the 'God of Cricket' has arrived to international cricket.
28 years ago, Sachin Tendulkar showed the world that he would achieve the title of 'God of Cricket' in the coming future. In the second Test against England at Old Trafford, Tendulkar scored his first century of his international career and put India in a commanding situation, however the test ended in a draw.
England won the toss and decided to bat first and scored a mammoth total of 519 runs in the first innings. In response, India scored 432 runs thanks to the innings of Tendulkar (68) and captain Mohammad Azharuddin (179), but handed a 87 runs lead to England.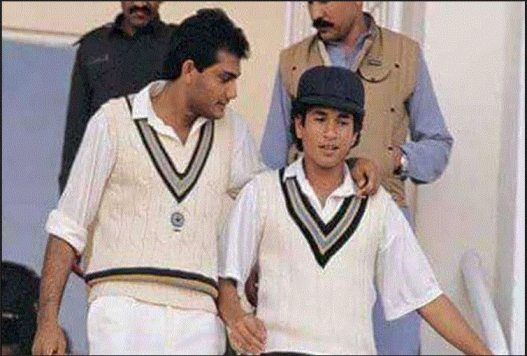 England declared their second innings at 320/4 and set a target of 408 runs in front of India. Team India had a poor second innings and struggled losing five wickets for 127 runs at one time. Then 17-year-old Sachin Tendulkar came to the crease and changed the complexion of the game.
England bowlers were seen struggling in front of young Tendulkar. Sachin scored his first century in international cricket with the help of 17 fours. The right-handed batsman scored 119 and remained at the crease with Manoj Prabhakar, who scored a half-century. At stumps on the last day, Team India had scored 343 runs, losing 6 wickets. Sachin Tendulkar not only saved the match for Team India but he also became the youngest batsman to score a Test century. He was just 17 years and 112 days old back then.
Sachin "The god of cricket"
The Master Blaster is considered as one of the greatest batsmen of all time in cricket. The right-handed batsman, known as Master Blaster, broke several records in his golden career, including the record of 100 individual centuries in international cricket. Before retiring from all forms of cricket in 2013, Tendulkar scored 51 in Tests and 49 in ODIs.
(Pictures courtesy: Twitter)