India celebrates its National Sports Day, marking the birth anniversary of "Major Dhyan Chand", the greatest hockey player that this world has ever seen. The hockey wizard scored more than 400 goals and rightly so is the sports icon of the country. He played an influential role for India triumphing in three consecutive Olympic, winning the gold in 1928, 1932 and 1936. On this auspicious day, let's discuss some more facts about this great man, which you and me might now be knowing so far.
Early days
Chand was employed in the British Indian army at a minor age of 16 years old as a Sepoy.
Hockey was not his first love
While his love for hockey tangled when he was enrolled in the army but earlier he used to love wrestling more than any other sport. We should thank god that he didn't entertain himself further into wrestling neither Dhyan Chand would certainly not be the "Dhyan Chand" which we know today.
A weird situation
Dhyan Chand was unable to score in a match, he argued with the match referee about the measurement of the goal post. In a surprising way, he was right. The goal post was found to be breaching the official minimum width prescribed under international rules.
When two greats of their games met
Australian cricket legend Don Bradman met Dhyan Chand at Adelaide in 1935. After watching him play, Bradman said "He scores goals like runs in cricket".
Rejecting to play for Germany
In 1936 Olympics Hockey gold medal match, India thumped Germany 8-1. Dhyan Chand completed his hattrick in the match and was influential in India's success.
Germany's Chancellor of that time Adolf Hitler got so angry that he left the stadium. In evening he called Dhyan Chand and asked, "What do you do other than playing hockey?"
Dhyan Chand replied, "I work for Indian army."
Hitler was surprised and said, "Why don't you join German hockey team? India will never be able to give you enough opportunities to grow."
Dhyan Chand calmly replied, "Sir it is not the responsibility of my country to make me grow. It is my responsibility to make my country grow."
Original name
His original name was Dhyan Singh but the title of "Chand" was given by his fellow players after watching his dedication for the game. Dhyan Singh used to practise hockey at night to enhance his stick work and that's why he was given the title of "Chand".
National stadiums named after him
To honour his contributions for Indian hockey, the national hockey stadium in Delhi was named Major Dhyan Chand National Stadium in 2002. Lucknow's Major Dhyan Chand stadium in Guru Gobind Singh sports complex is also named after him.
Retirement from army
He retired from the Indian army in 1956 as a Major, aged 51.
Last days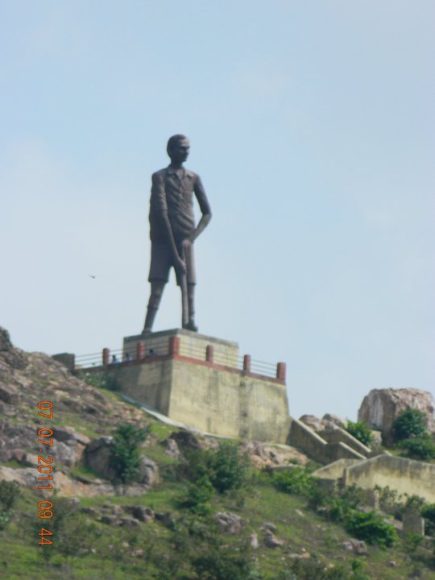 After serving as chief hockey coach for the country, Chand spent his last days of life in his hometown Jhansi. He passed away on 3 December 1979 at the All India Institute of Medical Sciences, Delhi. He was cremated at the Jhansi Heroes ground in his hometown. His regiment, the Punjab Regiment, accorded him with full military honours.