Indian cricketer-turned-politician Navjot Singh Sidhu today arrived in Lahore to attend the swearing-in ceremony of Imran Khan who will take the oath of Prime Minister of Pakistan. Sidhu went to Lahore via Wagah Border from where he will travel to capital city of Islamabad for Khan's swearing-in ceremony on Saturday.
Sidhu used his usual poetic expression while interacting with reporters.
Sidhu said Khan should come ahead and bring peace between the two neighbouring nations "Welcoming the "change" in Pakistan's democracy with the election of Khan as prime minister," he said.
I have brough message of love as a goodwill ambassador of India- Sidhu
"I have come here not as a politician but as a friend. I have come here to take part in the happiness of my friend (Imran Khan)," he said.
"Sportsmen and artistes help bringing the people of two sides closer," he added.
Hindustan jeevay, Pakistan jeevay- Sidhu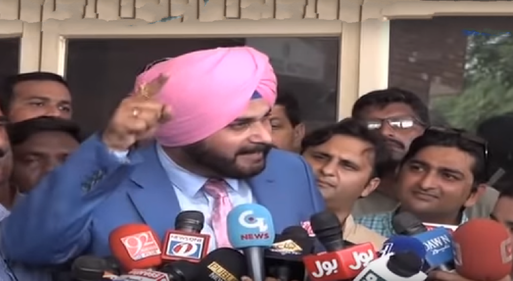 Sidhu also talked about former Indian Prime Minister Atal Bihari Vajpayee, quoting that the former PM also talked about bringing peace to both the nations. It was under Vajpayee's rule that a bus service from New Delhi to Lahore was started and to maintain the peaceful relations a cricket series between India and Pakistan was contested in Pakistan in 2004.
Talking about characteristics of Imran Khan
"I have seen Khan converting his weaknesses into his strength. I wish Imran becomes a symbol of prosperity (for Pakistan).
A gift for his friend
Sidhu said that he has brought a Kashmiri shawl for Khan.
Khan also invited former India captains Sunil Gavaskar and Kapil Dev but both denied the invitation citing personal agreements.