The birth anniversary of Lord Krishna is being celebrated with uproar across the country. From the general public to the film stars, this festival is tinted in color and now cricketers have also joined the fun. An old video of former India captain Mahendra Singh Dhoni is going viral. In the viral video, Dhoni is seen playing the flute, immersed in the color of Shri Krishna Janmashtami.
This seven-second video of Dhoni playing the flute is creating buzz on the social media. The 38-year-old is holding a flute like a seasoned artist. While playing the flute, he is wearing dark sunglasses. However, this video is old because Ambati Rayudu, who has allready retired from International cricket, appeared in the video.
Happy janmashtami to all MSdians around the world
How Many Retweets for our krishna pic.twitter.com/WCVHCvBUsq

— TEAM MS DHONI #Dhoni (@imDhoni_fc) August 23, 2019
MS Dhoni returns from army duty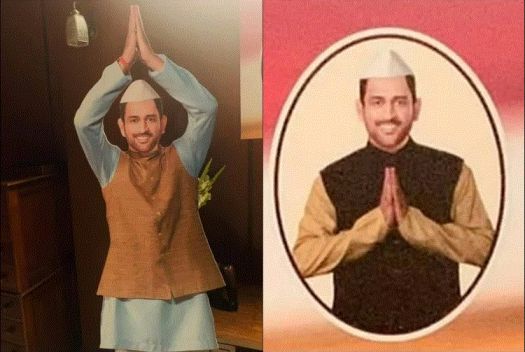 The veteran of 350 ODIs recently returned from the army duty after serving with his battalion in the terrorist prone area of Awantipora in South Kashmir, however he is again back in headlines courtesy of the social media.
In a viral picture, it is being said that Dhoni is now going to enter politics where he looks like a politician. Along with kurta-pajama, he is also wearing a Gandhi cap on his head.
Social media users are speculating that Dhoni will enter the politics and will join the likes of Gautam Gambhir and Navjot Singh Sidhu who have allready started their second innings in politics. When we investigated, it was found that Dhoni had recently appeared for an advertisement shoot in Mumbai, in which he is seen as the politician.
It is believed that Dhoni will soon join Team India for the T20 series against South Africa in September. The tour of South Africa to India begins on September 15.