In pursuit to his first US title since 2008, Roger Federer suffered a defeat in the quarter final stage to a lesser known Bulgarian Grigor Dimitrov. The 38-year-old has thumped his opponent seven times in previous meetings but Dimitrov had the last laugh.
Federer started the proceedings with 6-3 win in the first set. Dimitrov found his rhythm back to take the second set 6-4. The Swiss legend bounced back to take the third set 3-6 and took the confidence forward. He surrendered in the last two sets of the match sliding 3-6 6-4 3-6 6-4 6-2 to hand over a famous win to Dimitrov. He left the court for a private medical timeout to treat his upper back near his neck before the final set but refused to blame injury as the reason for his ouster.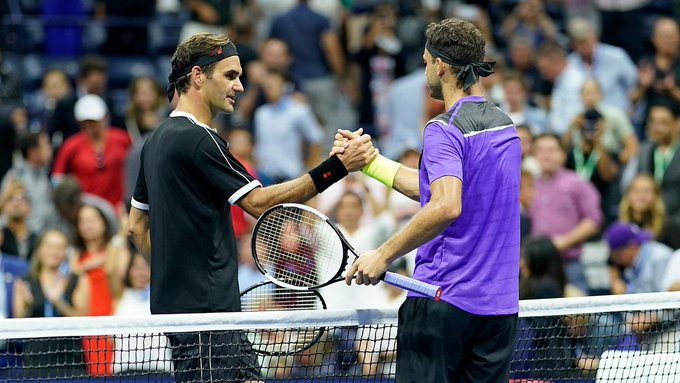 Dimitrov will next face Daniil Medvedez in the semi-finals of the prestigious tournament.
Federer praises Indian audience
20-time Grand Slam champion believes that Indian people are very passionate and energetic. The Swiss star expressed his thoughts with his apparel sponsor Uniqlo.
Uniqlo India has shared a video in which Federer is seen praising India and Indian audience. In this video shared on Instagram, Federer said ,"I love India. I enjoy going there to visit and also to play. It's a vibrant country. So many people getting together.
"To me the Indian audience is passionate, energetic and full of life," he said.
Watch the video
Picture credits: US Open Tennis on Twitter