Virat Kohli scored more than 400 runs in the ODI series against Windies and he was awarded with the man of the series title following the purple patch with the willow. The Delhi lad was given the much needed rest ahead of a tough tour to Australia down under. In his off time, he went to Uttarakhand where he will celebraed his 30th birthday yesterday and will later go to Rishikesh and Anushka Sharma's spiritual guru.
In 2008, Virat Kohli arrived to International scenes and since then he has been seen as the next Sachin Tendulkar of the Indian team. He recently became the quickest to 10,000 ODI runs and completed his 38th century in the process. Many believe that the 30-years-old will surpass all the cricket records and will set a new benchmark.
A big blunder from Wikipedia
Meanwhile web based encyclopedia- Wikipedia has made the mess of the information about Virat Kohli. In their official page dedicated to Virat Kohli, Wikipedia turned Virat as a 9-year-old and changed his date of birth to November 18, 2008.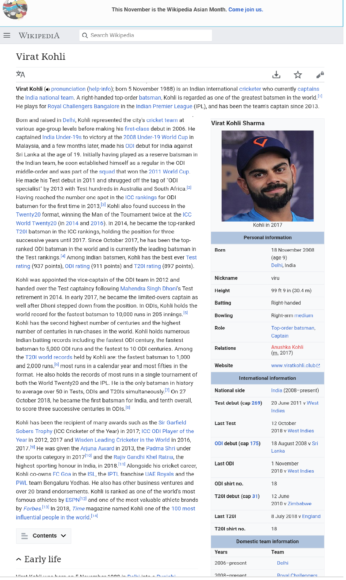 The situation got worse when they announced his height as 99ft 9 inches tall. They named his nickname as "Viru" and added "Sharma" to his surname.
After some time, Wikipedia realized their mistake and edited the blunders made on the page.