India's young pair of star shooters Manu Bhaker and Saurabh Chaudhary won gold in the mixed event of 10m Air Pistol on the last day to bring India's campaign to a spectacular end in the 2019 Shooting World Cup in Rio De Janeiro, Brazil. In the same event, Yashaswini Deswal and Abhishek Verma won silver and the top two positions were acquired by Indian pairs.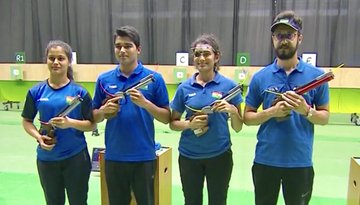 Earlier, in the 10m air rifle event on the last day of the tournament, the world's number one female shooter Apurvi Chandela and her partner Deepak Kumar won the fourth gold for India. The pair won gold in the mixed air rifle event. Anjum Moudgil and Divyansh Singh Panwar won the bronze medal defeating Hungary's Istar Mesjaros and Peter Sidi 16–10.
With this, India topped the shooting World Cup with 5 gold, 2 silver and 2 bronze. India topped all four ISSF (International Shooting Sports Federation World Cup) Rifle / Pistol World Cup stages this year, including the Junior World Cup. India has won 22 medals in the four phases of the ISSF World Cup this year, including 16 gold. Earlier, India had won a total of 19 gold out of which 11 were in rifles.
Full results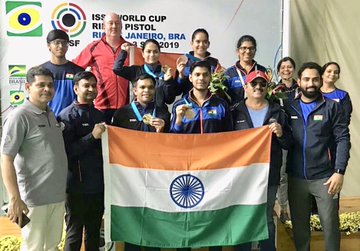 10m air pistol men's- Abhishek Verma (Gold), Saurabh Chaudhary (Bronze)
10m air rifle event team- Apurvi Chandela and Deepak Kumar (Gold), Anjum Moudgil and Divyansh Singh Panwar(Bronze)
10m air rifle women's- Elavenil Valarivan(Gold)
10m air pistol women's- Yashaswini Singh (Gold)
10m air pistol team event- Saurabh Chaudhary/Manu Bhaker(Gold), Yashaswini Deswal and Abhishek Verma(Silver)
50m rifle three position- Sanjeev Rajput (Silver)