Virat Kohli battled all the odds despite loosing partners from other end to bring his maiden test hundred in England. To make the occasion more momentous his wife and Bollywood actress Anushka Sharma was there to acknowledge the efforts. The innings also shut the harsh words of the critics that sensed him as a flat track bully. He now has a test hundred in every country leaving Bangladesh.
Rating the 149 runs knock
Virat Kohli rates his maiden test hundred in England as the second best to his 141 in a loosing cause against Australia in Adelaide in 2014.
"I don't know. This could come second to Adelaide. Adelaide remains very special to me. It was second innings and we were chasing a target (364) on day five,"  Kohli was quoted as saying by BCCI.TV.
"I had total clarity in my mind that we were going for the target. That was a beautiful zone to be in. About this innings, I am very happy and grateful," he added.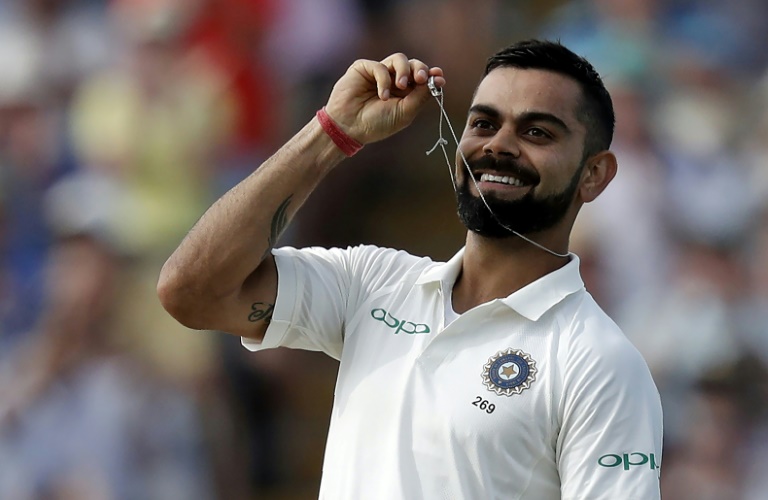 A special knock from a special batsman
Kohli played a masterclass at the Edgbaston under bright clouds soaring up in the sky that constitute to a perfect English conditions. The moving "Duke" ball created corridor of uncertanity for several Indian batsman who could not stand with the Indian captain at other end. Virat build some crucial partnerships with lower order batsman to take the Indian total to 274 runs, just falling short of the first innings total by 13 runs.
"It was not only about getting to the three-figure mark but to continue from there on. I was very disappointed when I got out because we could have taken a 10-15 run lead. But in hindsight we would not have been able to bowl at them. I am just happy with my preparation and not worried about the world," he said.
Also read: Watch: Virat Kohli celebrates in a grand style after scoring his maiden ton in England
About his banter with James Anderson
Anderson troubled Kohli in the 2014 tour through his away moving balls that often found the edge of the bat to the slips. But Indian captain came with alot of preparation to tackle the plans of Anderson and had the last laugh.
"It was difficult. I told myself it was important to enjoy this, take it upon me as a challenge to take the team far," said Kohli when asked about his mindset in the middle where the other batsmen struggled.
"It was a test of physical and mental strength but I am glad we could come close to their total and we are pretty much in the game. When you can help the team that way it feels great.
"I have to commend the tail as well. Hardik Pandya batted really well and Ishant and Umesh too applied themselves at the end. The support from them was outstanding," Kohli added
Because videos are much better than the text. Right? So here's the full interview link
INTERVIEW

It was a test of mental and physical strength: @imVkohli tells @RajalArora.

READ: https://t.co/BtGAG6hVyX #ENGvIND pic.twitter.com/M5DQ5Y4NqH

— BCCI (@BCCI) August 3, 2018