After a golden start on Day 1 courtesy of Mirabai Chanu's medal, the focus now shifts to the second day of the competition. After a shocking defeat to Wales, Indian hockey team will square-off against Malaysia. India's cyclist and gymnasts will also be action. Three weightlifting events are also lined up for the day, which promises to be a medal prospect for India, as reigning CWG champion Sanjita Chanu will be in action. Related: Full schedule of Indian athletes on day 2 of Gold Coast CWG 2018. India at day 2 of gold coast commonwealth games 2018
Highlights: India at Day 2 of Gold Coast Commonwealth Games 2018
17:00 pm: India's challenge comes to a close on 2nd day, thanks for being with us, do tune in tomorrow for all the updates. Till then watch the schedule of Indian athletes on day 3- here.
---
16:50 pm: India's Kiran Tak finished last in the Women's S9 100m Backstroke Final, fails to bag a medal
---
16:30 pm: India beat Samoa 26-4 in Lawn Bowls Men's pairs sectional play – section D, round 4, match 3.
15:26 pm: Cycling: Ranjit Singh, Sanuraj Sanandaraj and Sahil Kumar lose in the Men's Keirin Repechage heat.
---
Heartbreak for India!
15:00 pm: Weightlifting: India's Saraswati Rout out of the medal contention as she fails to lift in any of her three attempts of snatch event in women's 58 kg category.
---
14:50 pm: Boxing: Amit Panghal of India beats Tetteh Sulemanu of Ghana with a unanimous score of 5-0 in men's 46-49 kg round of 16. He will next meet Aqeel Ahmed of Scotland in quarter finals.
---
14:40 pm: Lawn Bowls: In women's fours section B, India beat England 21-9 in round 3, in men's pairs section D, India lost 12-17 to Scotland.
---
---
14:15 pm: Cycling: India's Manjeet Singh finishes 24th in Men's 4000m individual pursuit, fails to qualify for medal round.
---
14:03 pm: Squash: Joshna Chinappa defeats Tamika Saxby of Australia 11-6, 11-8, 11-4 and advances to quarter final of woman singles.
---
14:00 pm: Squash: Dipika Pallikal suffers a defeat in round of 16. She goes down to Alison Waters of England 3-11, 6-11, 2-1.
---
13:10 pm: India thrash Scotland 5-0 in mixed team event.
---
12:35 pm: Cycling: Manjeet Singh fails to qualify in Men's 4000m Individual Pursuit. He clocks time of 4:39.744 minutes to finish 24th out of 27 competitors.
---
12:30 pm: India is third on the medals tally with 2 gold, 1 silver and 1 bronze.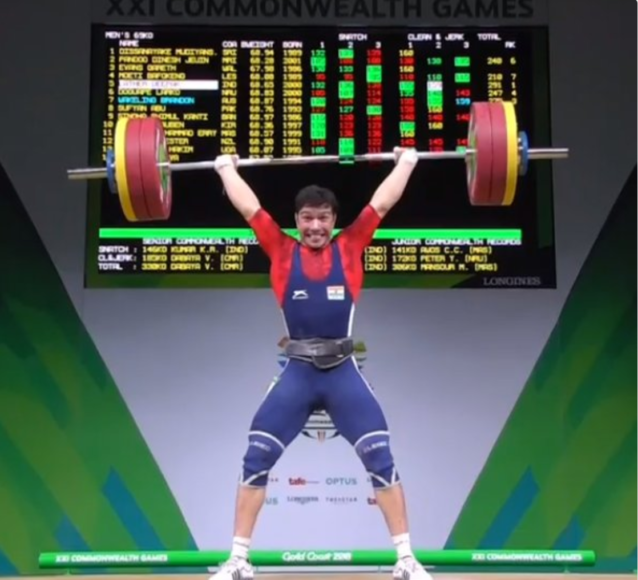 ---
Bronze for India!
12:10 pm: India's 18-year-old Deepak Lather wins bronze in men's 69 kg. He lifts a total lift of 295. Full event reports- here

---
11:40 am: Women's Pool A Hockey match — Indian eves outclass Malaysia 4-1, scores two goals in last 5 minutes of the game.
---
11:38 am: Deborah and Aleena Reji fail to qualify forward from the Heats in the Women's Sprint Quarterfinals.
---
11:30 am: India vs Scotland, Badminton Mixed Team Event, Group A: Ashwini Ponappa and N Sikki Reddy give India 3-0 lead in the tie after a 21-8, 21-12 win over Kirsty Gilmour and Eleanor O'Donnell
---
11:21 am: India women's hockey team leads 2-1 against Malaysia with 10 minutes still left.
---
11:00 am: Squash: England's Nick Matthew defeats Vikram Malhotra 6-11, 11-8, 11-6, 11-6 in Men's Singles Round of 16.
---
10:58 am: Good news for India! Deepak Lather finishes joint-second in Snatch in Men's 69kg weightlifting. He lifts 132kg in 1st attempt and 136kg in 2nd lift. Third lift of 138kg proved unsuccessful.
---
---
10:10 am: Badminton: Saina Nehwal beats Julie Macpherson 21-14, 21-12 to give India 1-0 lead against Scotland in badminton mixed team event
---
09:30 am: In the quarter-final round, Naman will face Frank Masoe of Samoa on April 10.
---
09:24 am: Naman Tanwar reaches the quarter final of men's 91 kg, by defeating Haruna Mhando of Tanzania by unanimous decision. (Unanimous: All the five judges favoring).
---
09:12 am: Boxing, Naman Tanwar is up against Haruna Mhando of Tanzania in the Men's 91kg, round of 16.
---
09:05 am: Deborah Deborah, Aleena Reji advance to 1/8 finals in the Women's sprint qualifying Cycling, track. Deborah finished in 13th position with the time of 11.484, while Aleena finished last with the time of 12.207, in qualification.
---
08:45 am: Para-swimmer Kiran Tak finishes last in the Women's S9 100m backstroke heats with the timing of 1:46.29.
---
8:20 am: Gymnastics: India's Pranati Nayak finish at number one spot in vault events, following her is Aruna Reddy at second position.
Aruna Reddy finishes at 4th spot in Uneven bars, following her are Pranati Nayak at 5th and Pranati Das at 6th.
Pranati Das finishes at 3rd spot in Balance beam event, following her are Aruna Reddy at 4th and Pranati Nayak at 7th.
Pranati Das finishes at 1st spot in floor exercise event, following her are Aruna Reddy at 5th and Pranati Nayak at 7th.
In all round results Pranati Das finishes at 4th, Aruna Reddy at 5th and Pranati Das at 6th.
---
8:18 am: Good news for India! Indian woman's Gymnastics team of Aruna Reddy, Pranati Das and Pranati Nayak finish at number one spot in team standings.
---
8:17 am: India climbs on the third spot in medals tally, with 2 golds and 1 silver. England is at 1, Australia at 2.
---
7:54 am: Lawn Balls: In Women's Singles Round 3, Pinki has lost to Litia Tikosisuva of Fiji 12-21. In Men's Triples Round 3, India go down 14-15 to England.
---
7:30 am: Chanu lifted 84 kg in the snatch and 108 kg in clean and jerk. Loa Dika Toua of Papua New Guinea was second with 182 kg while New Zealand's Rachel Leblanc-Bazinet took bronze with 181 kg.
In what may well be another medal win situation for #TeamIndia at #GC2018 #SanjitaChanuKhumukcham will be lifting in the #GC2018Weightlifting #GoldMedal Event Women's 53kg Finals….

— IOA – Team India (@ioaindia) April 6, 2018
---
7:25 am: Actually a good morning news for every Indian ! Sanjita Chanu defends her CWG title and wins the gold medal in the women's 53kg weightlifting event with a total lift of 192kg. Impressive start for India at day 2.
---
6:16 am: Sanjita Chanu breaks the Commonwealth Games record by lifting a weight of 84kg in snatch! She is in gold medal position.
---
6:10 am: After a mixed day at Gymnastics, India  women's gymnastics team has done very well in Team Final and Individual Qualification. Pranati Nayak, Pranati Das, Aruna are second in the team standings. In the individual standings: Pranati Nayak – 32.425,  Pranati Das – 32.50, Aruna Reddy – 33.150. They are 2nd, 3rd and 4th respectively.
---
12:24 am: Sanjita Chanu will be the first Indian in action at woman's weightlifting(53 kg) category. The action starts 5.12 am IST. Stay Tuned for all the updates.
---