Fans are allready thrilled by India's rise in world hockey, as Bhubaneswar gears up to host hockey world cup this year in December. To add to this India's bronze medal finish at Hockey world league finals added fuel to the excitement potent. Top hockey players like Manpreet, Mandeep, Harmanpreet and others have again given a hope of returning glory of Indian hockey.
India had a glorious past in sports of hockey. Indian men's team being the only non-European team to be a part of International Hockey Federation. With 11 Olympic medals, 3 world cup medals, 14 Asian games medals and 2 Commonwealth medals. Despite a poor run in recent times, India still constitute to be the most successful team in field hockey. In the process, many great players came and went away. Here is the list of those top hockey players from India.
Top Hockey players
5. Udham Singh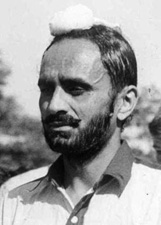 Udham Singh appeared for India in 1952, 1956, 1960 and 1964 Summer Olympics. He won 3 gold and 1 silver, which is a record medal tally in Olympic field hockey category. Singh was a specialist full back for the team but his adaptability to play from left inside, right inside, center forward and center half, adds a title of great to his name. He also served as the coach for the national team. His coaching won India a bronze medal at 1968 Mexico Olympics and a silver at 1970 Asian games at Bangkok. For his continued services to the game, Indian government honored him with Arjuna award in 1965.