Live updates
8 PM- Chess: Vidit Gujurathi loses to Kazakhstan Kazybek Nogerbek (0.0-1.0). Arjun Erigaisi draw with Vietnam's Tuan Minh Le (0.5-0.5). In women's first round, Kuneru Humpi beats Le That Nguyen (1.0-0.0) and Harika Dronavalli beats WGM Qianyungong
7:24 PM- Indian women's relay 4x100m freestyle team finishes 7th in the finals with a timing of 3:54.66.
7:10 PM- India's Sunil Singh lost against Philippines' Arnel Mandal in the men's 56kg 1/8 final of Wushu.
7:03 PM- India loses in the quarter finals of men's team table tennis to South Korea 3-0.
6:58 PM- India draws against Myanmar in men's football, they are through to the round of 16 where they will be up against Saudi Arabia.
6:51 PM- Indian women lose 0-45 against Japan in the Pool F match of Rugby.
6:37 PM- Srihari Nataraj clocks 54.48 seconds and finishes sixth in the finals of men's 100m backstroke in swimming.
5:10 PM- Nikhat Zareen beat Vietnam's Nguyễn Thị Tâm by a 5-0 unanimous decision. Zareen had defeated the same opponent in the final of the World Championships earlier this year. She is through to round of 16 in her weight category of boxing.
3:10 PM- Indian women's football team bow out of Asian games 2023 with a 1-0 loss to Thailand.
3:10 PM- India's Taniksha Khatri loses to Hong Kong's Man Wai Vivian Kong 7-15 in fencing.
2:25 PM- Koneru Humpy, D. Harika, Arjun Erigaisi and Vidit Gujarathi all win their opening-round fixtures in the individual event.
2 PM- The second-seeded Indian pair of Saketh Myneni and Ramkumar Ramanathan beats Nepal's Abhishek Bastola and Pradip Khadka 6-2, 6-3 in 58 minutes. They are through to round of 16 in men's double tennis
1:19 PM- India's dream run at Asian Games comes to an end with a loss to Japan in men's 1-6 classifications match in men's volleyball.
12 PM- India vs Volleyball match underway for a spot in the semi finals, no live coverage of the event.
11:45 AM- Indian boxer Preeti beats Jordan's S Alhasanat via referee stop contest. Preeti next faces Z Shekerbekova of Kazakhstan in the quarterfinals
11:10 AM- Top seed Charan Jot Singh lost to 0-2 to China's Liu Jiacheng while Karman Singh suffered 1-2 defeat against Bahrain's Abdulaziz Faqeehi in the round of 32.
They will now play in the loser's bracket.
11 AM- Thailand knocks out Indian women's table tennis team 3-2 to make their way into the quarter finals. Manika Batra with two loses in the tie.
10:40 AM- Indian team goes down 0-38 to Hong Kong, China, in its Pool F. It will next face Japan at 3:35PM IST today in its second group match.
10:31 AM- India outplau Uzbekistan 16-0 in the pool match of men's hockey. They were without their services of their captain- Harmanpreet Singh.
10 AM- Sumit Nagal the fifth seed, beats Macao's Ho Tin Marco Leung 6-0, 6-0 in 45 minutes to reach the round of 16.
9:50 AM- Indian team in women's 4x100m Freestyle Relay event qualifies for the final after finishing sixth overall in the heat.
9:40 AM- Ramita clinches bronze in women's 10m air rifle. Ramita finishes third with 230.1. China's Han Jiayu wins silver with 251.3 while her compatriot Huang Yuting takes the gold with  a score of 252.7.
9:40 AM- Srihari Nataraj finishes fifth overall in the men's 100m backstroke heats to qualify for the final.
9:12- Fencing: Bibish Kathiresan makes it to the Round of 16 after a 15-12 win over Indonesia's Tian Wei Jonathan Au Eong. Dev goes down 8-15 against Chinese Taipei's Chen Yi-Tung.
9:10- Women's 10m air rifle final underway as Mehuli Ghosh and Ramita spearhead the Indian challenge,
9:08 AM- Indian eight wins silver medal with a timing of 5:43.01 in rowing.
9 AM- Ayhika Mukherjee beats Suthasini Sawettabut 3-1 (18-16, 11-7, 13-15, 9-11) to make it 1-1 for India against Thailand in the round of 16 of the women's team event
9 AM- India's Tanish George Mathew and Anand Anilkumar Shylaja finish 12th and 17th and fail to qualify for the finals.
8:48 AM- Bronze medal for India as Indian men's double sculls team of BL Yadav and Lekh Ram finish third with a timing of 6:50.41
8:28 AM- India through to the final of women's cricket as they pip Bangladesh by 8 wickets with 11.5 overs remaining. Remember Bangladesh were bowled out for 50 runs.
8:27 AM- India finishes 5th in women's four of rowing with a time of 7:12.40
8:10 AM- Manika Batra loses the first rubber against Thailand in pre quarter finals of table tennis women's team event.
8:10 AM- Satnam Singh and Parminder Singh finish last in the men's double sculls final. They were second for majority of the time but a possible injury scare have denied them a medal.
7:30 AM- India's Suraj Singh Mayanglambam (9.730) and Anjul Namdeo (9.710) finish fifth and sixth, respectively in men's changquan in Wushu event
7:19 AM- Arjun Lal Jat and Arvind Singh win silver in the Lightweight Men's Double Sculls with a timing of 6:28.18s. Reports- Asian Games 2023: Indian Army bringing laurels as Rowers open India's medal tally account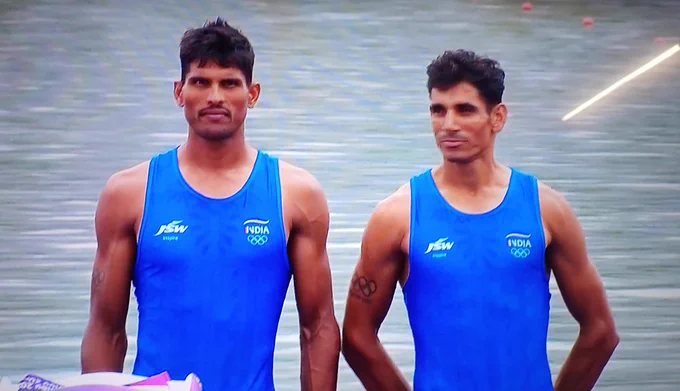 7:07 AM- The trio of Ramita, Mehuli Ghosh and Ashi Chouksey win silver in the women's 10m air rifle team event at the end of the qualification round with a total score of 1886. China wins gold with 1896.6 while Mongolia takes bronze with 1880.
Ramita (631.9) – 2nd, Mehuli – (630.8) – 5th, qualify for the individual final which begins at 9.15 AM. See today's schedule- India's schedule today at Asian Games 2023 (24 September)
Lot of medal events are lined up on day 1 of Asian Games 2023 as rowers and shooters will have their task cut out to win the top honors for the country. Boxing, Chess, Tennis, Taekwondo, Tennis, E-Sports, Fencing, Rugby, Shooting, Hockey and Swimming events will start from today.
Indian cricket team will look to forget the sour memories of their Bangladesh tour where some controversial umpiring decision and below the belt acts by skipper Harmanpreet Kaur didn't go down well and they will again face Bangla women, this time in the semi finals of Asian Games. The team will be led by Smriti Mandhana as skipper Kaur is still serving a two match ban and is expected to lead the team if they play the finals.
India men's football team will be up against Myanmar and a win will guarantee them an entry to the knockouts while the women team will be up against Thailand and the match will be a virtual knockout between the two sides as the winner will progress to the next round.
Indian volleyball team will face a stern test from WR 6- Japan in the men's 1-6 classification match and a win here will guarantee them a semi final spot but they have to play out of their skin to beat Japan, who are defending Asian games champion. Indian men's hockey team will also start its campaign against a low lying Uzbekistan.