Live updates and results 25 September
That's all from today, do join us tomorrow.
7:18 PM- Men's boxing 63.5-71kg: India's Nishant Dev beat Dipesh Lama of Nepal with an unanimous score 5-0.
7:09 PM- Men's 65kg event of Wushu in 1/8 event: India's Vikrant Baliyan lose to Samuel Marbun of Indonesia.
7 PM- India's Pranati Nayak has qualified for the women's vault event and the all-around finals.
6:44- In Men's 4x200m relay swimming final, India finished on seventh spot with a time of 7:29.23.
5:55 PM- In 100m backstroke final of swimming, India's Likith Selvaraj clocked 1:01.62 finishing seventh
5:40 PM- After three rounds, Surya reaches the quarterfinals of the men's 60kg event after winning 2-1 in Wushu.
5:29 PM- In men's 46-51kg boxing, India's Deepak wins against Muhammad Abdul of Malaysia in the round of 32.
5:18 PM- India's Roshibina Devi defeated Aiman K of Kazakhstan by point difference in the Women's 60Kg Quarterfinal of Wushu, bronze assured for India !
5 PM- In women's boxing 60-66kg, India's Arundhati loses to China Yang Liu 0-5 (win on points).
4 PM- Mixed doubles pair of Rujuta Bhosale and Rohan Bopanna are through to the quarterfinals after defeating Uzbekistan's Akgul and Maksim 6-2, 6-4 in tennis. Earlier, Bopanna and his men's double partner Yuki bhambri bowed out in the men;s doubles round of 16.
2:50 PM- Chess update:
Vidit and Arjun defeat Thailand's Prin and Nguyen of Vietnam, respectively in the men's individual round three.
Harika Dronavalli lost to China's Hou Yifan, while her compatriot Koneru Humpy drew with Zhu Jiner of China in the women's individual round 3.
2:43 PM- Second gold for India ! Indian women's team pip Sri Lanka by 19 runs to bag top honors.
1:55 PM- Sri Lanka 50-4 in 10 overs of women's cricket final.
1 PM- Women's cricket gold medal match- India finishes the innings on 116/7 at the end of 20 overs. Sri Lanka need 117 runs to win the gold medal.
12:55 PM- India goes down 13-41 against Japan in women's handball pool stage.
12:41 PM- India men's team defeat Malaysia 20-16 in 3×3 basketball pool stage. The women's team went down 14-19 to Uzbekistan
12:10 PM- Tennis Update:
Upset alert ! Rohan Bopanna/Yuki Bhambri pair bows out of the tournament after a 3-6, 3-6 second round loss against Uzbekistan pair of Sergey Fomin and Khumoyun Sultanov. Bopanna and Bhambri were the firs seed in the tournament. Its worth mentioning that Bopanna was the reigning Asian Games champion in the men's doubles category with Saketh Myneni.
Indian pair of Ramkumar Ramanathan and Saketh Myneni beat Indonesia's Ignautius Susanto and David Susanto 6-3, 6-2 to advance into the next round. The Indian pair is the second seed in the tournament.
12 PM- Vijayveer Sidhu finishes 4th in 25m rapid fire pistol finals.
10:37 AM- Garima Chaudhary bow out of the tournament after the Round of 16 loss against Ryoko Salinas of Philippines in Judo.
10:08 AM- Indian 25m men's rapid fire pistol team of Vijayveer Sidhu, Anish and Adarsh Singh has clinched bronze with 1718 points
9:30 AM- India's Aishwary Pratap Singh Tomar clinched the bronze medal with 228.8 points. Second medal for Indian shooters on the day.
8:57 AM- Men's 10m air rifle finals gets underway.
8:58- Indian women's eight finished 5th in the finals. The end of rowing events from here on ! A gold would have ensured India's best ever medals tally in rowing but not to be this time.
8:34 AM- India get another bronze medal in men's quadruple sculls in rowing. India recorded a time of 6:08:61.
8:30 AM- Tennis update:
Ankita Raina enters the Round of 16 of tennis women's singles event after defeating Uzbekistan's Sabrina Olimjonova 6-0, 6-0.
Ramkumar Ramanathan receives a walk over in round of 32. He will face the winner of Qatar's Mubarak Al Harrasi and second seed from Japan Yosuke Watanuki.
8:30 AM- Swimming update:
Maana Patel misses out on the Women's 50m backstroke final swimming event. She recorded a time of 30.06 seconds. Anand Anilkumar Shylaja finishes sixth in Heat 5 with a time of 23.54 seconds while Virdhawal Khade end fifth in Heat 6 at 23.12 seconds in men's 50m freestyle.
India's youngest athlete in Asian Games 2023- Dhinidhi Desinghu finishes 4th in the first heat of Women's 200m Freestyle swimming.
8:10 AM- India's Srihari Natraj finishes 3rd in Men's 50m backstroke in heat 4 with 25.43s on the clock.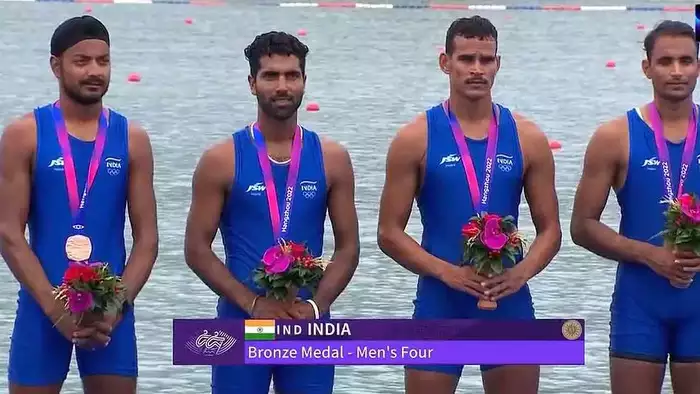 8:03 AM- India secured a bronze medal in Men's Four Rowing event. The quartet of Jaswinder Singh, Bheem Singh, Punit Kumar, Ashish recorded a time of 6:10.81. India's dream run in rowing continues
8 AM- India's Balraj Panwar finishes fourth with 7:08.79s on the clock in men's singles sculls.
7:43 AM- The team of  Rudranksh Patil, Aishwary Tomar and Divyansh Panwar won India its first gold medal in men's 10m air rifle team event at the 19th Asiad. They finish with a score of 1893.7, a world record in a competition with the like of "heavyweights" Korea and China.
Rudrankksh Patil and Aishwary Pratap Singh also qualify for the individual finals.
Reports- Asian Games 2023: Shooters get India the 1st gold medal with world record
After a mixed first day at Asian Games 2023 where India won 5 medals including three silver and two bronze, focus now shifts to the 2nd day of the competition where many Indian athletes will be raring for glory. The onus will again lie on shooters and rowers to bag medals for the country.