You can't go for any other badminton racket if you are just beginning except than Nanoray 18i from the house of Yonex. This racket is ultra light weight and one can generate powerful smashes without having any proper technique. The racket will cost you around 1500-2000 on online as well as offline market. If you are looking for Yonex Nanoray Light 18i review then you are at the right place.
Who should buy it ?
If you are a beginner and just starting the game on court
If you are an intermediate player who plays outdoor
If you don't have good technique and want power in your shots
The one's who are suffering from wrist injury, because of the ultra light weight of this racket, you won't hurt yourself much.
 Defensive players who are reliable on deceptive play and drop shots.
Buy this racket here- Yonex Nanoray Light 18i Graphite Badminton Racquet
---
Specifications of the racquet
Grip Size: G4 (3.25 Inches)
Weight: 5U (75-79.9 grams)
Color: Black
Head Shape: Isometric
Maximum String Tension: 30LBS
Strung Type: Pre-Strung with 20-22 LBS strings
Balance Type: Head Light
Playing Level: All
Material: Graphite
Joint: Built in T joint
Shaft: Carbon graphite


---
For singles or doubles
This racket is good for singles as well as doubles game. Singles player can generate huge amount of power with their shots as this racket is light weight and is easy to maneuver due to its weight and length. One can play perfect net drops and deceptive play if they have good technique. It is an evenly balanced racket but due to its light weight, one can generate huge amount of power in their shots.
Doubles is a fast game and due to the light weight of this racket, one can master up their play.
---
Will it break ?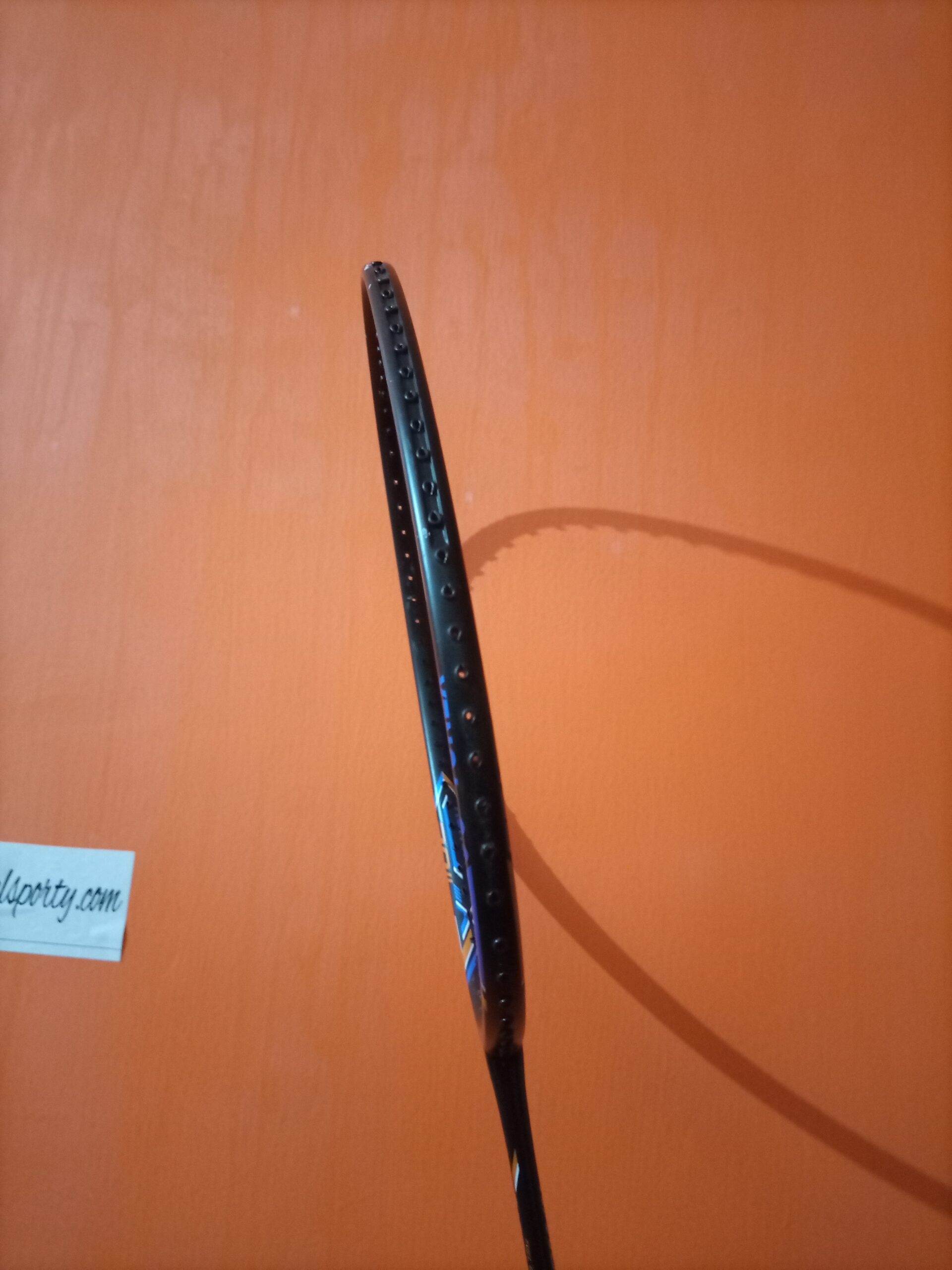 Nothing is permanent in this world but i used to play with this racket when i was an intermediate level player on outdoor court. I hit it on the ground for several times, also the racket fell off my hands but the frame of the racket never lost the shape. You can see in the above image that i've got dents in my racket but it didn't change the shape. The graphite material of the racket is rock strong and you don't need to worry about the durability because it will be with you for a long-long time.
---
Strings to use
It is an evenly balanced racket so the best suited strings will be BG65, Nanogy 95 and BG80 depending on your style of play. You can also chose Li Ning Number 7.
BG65 or BG65 Titanium is a defensive string which is durable with thickness of 0.70 mm but it won't offer you much repulsion power and control on your shots. You can't hit powerful smashes with these strings so ultimately it is meant for only intermediate or professional players.
Buy BG65 and BG65 Titanium- Here
A beginner can go with Nanogy 95 which is again a durable string but comes with a thickness of 0.69 mm. It is durable and one can also master up their defensive and offensive game with this. You can generate more power with these strings and it is highly recommended for beginners. However, it is a bit costly than BG65.
Buy Yonex Nanogy 95- Here
One's who are more of an offensive player and want some durability, they can go with BG80 with a thickness of 0.68 mm. The strings offer more control and power in your shots and they are durable as well. BG80 is one the costliest strings in the market. Indian doubles player Satwiksairaj Rankireddy uses the same string in his racket.
Buy Bg80- Here
---
String tension to put on the racket
The one's who are just beginning their game, can gut it around 22-24 LBS. An intermediate can gut Nanoray 18i racket from 24-26 LBS and a professional player can gut it from 27-30 LBS.
Remember the more tension you put, less will be the life of strings and the racket frame. Also high tension doesn't mean your smashes will be very powerful, it all depends on your technique. High tension also mean that you will have a less sweet spot and less tension means you will have a bigger sweet spot. So for the ones who are new to the game, going for high tension will only destroy their game as they can't just hit the shuttle from the sweet spot on every occasion and a high gutted racket's string can break if the shuttle hits the side too sharply.
Beginner: 22-24 LBS
Intermediate: 24-26 LBS
Professionals: 27-30 LBS
Watch Unboxing and review video
Conclusion
You can surely buy this racket without a doubt. This is one of the best selling Yonex racket and you will love to have it. If you have any questions, please feel free to write it in the comments below and ill answer them all.
Buy Yonex Nanoray Light 18i racket