Apacs Finapi 232 racket is a head light defensive racket and the company has brought it to compete with racket like Yonex Nanoray 18i with some improved and attractive specifications. The racket comes unstrung from 1400-2000 rupees on online platforms and we will discuss the strings to use, specifications and if it's best for you or not ?
Buy Apacs Finapi 232 racket- Here
Who should buy it ?
If you are a beginner and just starting the game on court
If you are an intermediate player who plays outdoor
 Defensive players who are reliable on deceptive play and drop shots
The one's who don't believe on smashing much
---
Specifications of the racquet
Grip Size: G4 (3.25 Inches)
Weight: 3U (85 grams)
Color: Eight color racket available
Head Shape: Oval
Maximum String Tension: 38LBS
Strung Type: Not strung
Balance Type: Head Light
Playing Level: All
Material: Graphite
Joint: Built in T joint
Shaft: Graphite


---

For singles or doubles

This racket is good for singles play as good technique is needed to eke out smash from this defensive racket. This is not meant for doubles as the game demands power and speed and with this 85 grams defensive racket, it is not possible. One who has good defensive technique and drop shots can be a master with this racket. External factors on outdoor court is a factor and if there is wind, you can use this racket to good limit while smashing.

However, on the indoor court, the racket won't give you great smashes and it will be easy to lift the shuttle

---

Will it break ?

Nothing is permanent in this world but i used to play with this racket when i was an intermediate level player on outdoor court. I hit it on the ground for several times, also the racket fell off my hands but the frame of the racket never lost the shape.

But the frame is not really strong as Nanoray 18i or Carbonex 8000 Plus so it is not recommended to hit the racket on the court in frustration or drop it accidentally, there is a good chance that it can lose it's shape. "Handle with care"

---
Strings to use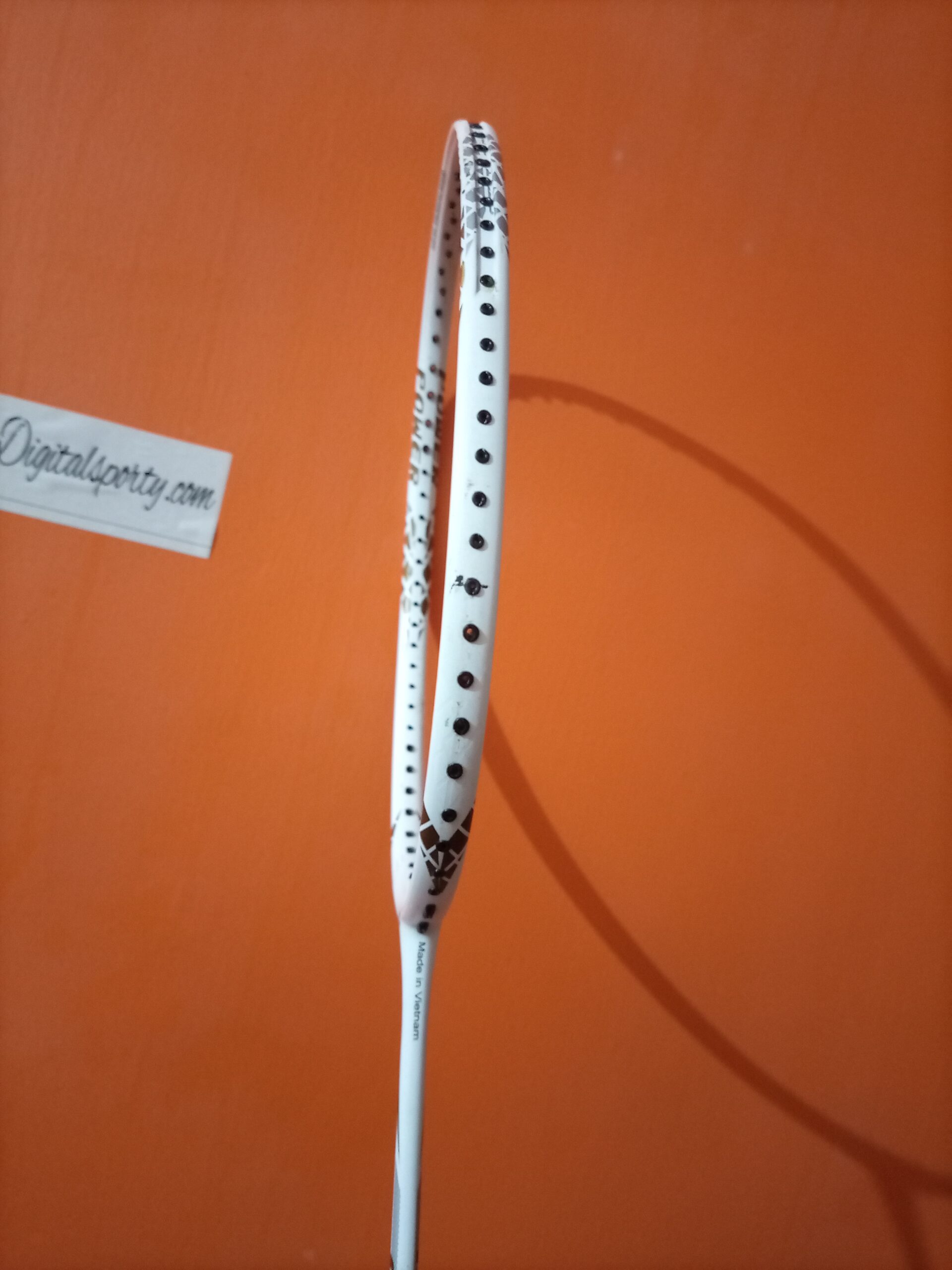 It is an evenly balanced racket so the best suited strings will be BG65, Nanogy 95 and BG80 depending on your style of play. You can also chose Li Ning Number 7.
BG65 or BG65 Titanium is a defensive string which is durable with thickness of 0.70 mm but it won't offer you much repulsion power and control on your shots. You can't hit powerful smashes with these strings so ultimately it is meant for only intermediate or professional players.
Buy BG65 and BG65 Titanium- Here
A beginner can go with Nanogy 95 which is again a durable string but comes with a thickness of 0.69 mm. It is durable and one can also master up their defensive and offensive game with this. You can generate more power with these strings and it is highly recommended for beginners. However, it is a bit costly than BG65.
Buy Yonex Nanogy 95- Here
One's who are more of an offensive player and want some durability, they can go with BG80 with a thickness of 0.68 mm. The strings offer more control and power in your shots and they are durable as well. BG80 is one the costliest strings in the market. Indian doubles player Satwiksairaj Rankireddy uses the same string in his racket. It is expected to power your game when you play with this Apacs racket.
Buy Bg80- Here
---
String tension to put on the racket
The one's who are just beginning their game, can gut it around 22-24 LBS. An intermediate can gut Apacs Finapi 232 racket from 24-26 LBS and a professional player can gut it from 27-32 LBS.
Remember the more tension you put, less will be the life of strings and the racket frame. Also high tension doesn't mean your smashes will be very powerful, it all depends on your technique. High tension also mean that you will have a less sweet spot and less tension means you will have a bigger sweet spot. So for the ones who are new to the game, going for high tension will only destroy their game as they can't just hit the shuttle from the sweet spot on every occasion and a high gutted racket's string can break if the shuttle hits the side too sharply.
Beginner: 22-24 LBS
Intermediate: 24-26 LBS
Professionals: 27-32 LBS
Note: Don't get motivated to buy racket if they have good amount of string tension holding capacity. High string tension doesn't mean you can generate more power with your smashes.


---
Watch the unboxing and review video
---
Conclusion
You can surely buy this racket without a doubt. This is one of the best selling Apacs racket and you will love to have it. Apacs is a fast growing brand in India and if you want something unique than others, go for it. If you have any questions, please feel free to write it in the comments below and ill answer them all.
Buy Apacs Finapi 232 racket- Here