If you are moving from just a fun player to a bit serious and want an upgrade then Yonex Mavis 200i is the best shuttlecock you can choose with. The shuttle just costs around 400 rupees for a box of 6 piece and can be durable enough to last 2-3 games per shuttle. Some may argue that the shuttle does not have some really good quality of skirt and that it is not durable but still it's the perfect thing for a beginner who can't afford a costly feather shuttle or Mavis 350 Nylon shuttle.
Pros:
Cheaper, Durable if not dealt with smashes, good trajectory
Cons:
Not for intermediates or professionals
My experience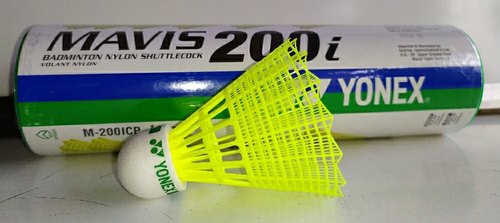 I was playing outside my house just 5 years ago and an idea of upgrading to Yonex Mavis 200i shuttle came to my mind after i was fed up by purchasing 10 rupees shuttle which didn't lasted a day. I started loving badminton more as Mavis 200i did wonders and lasted for 5-6 days as i didn't have any good technique to hit a smash and it was just aerial shots or 1-2 drop shots which didn't exerted much pressure on the shuttlecock.
However, i took my game seriously and went to play indoors in 2017 and that's where the test of the shuttle began. As i improved my technique and started hitting good smashes and my rallies started lasting longer, the shuttle only lasted for 1 game or even less than that and i was bound to turn favours to Mavis 350 and Yonex Aerosena feather shuttle.
When i played outdoors, this shuttle didn't lasted for long time as well because of the uneven surface the skirt of the shuttle broke. As i already mentioned in the above para, the skirt of the shuttle is very light and thin which can't endure hard smashes and long rallies.
Overall, if you are just a beginner who is not a hard hitter and your budget is tight, then Yonex Mavis 200i is the way ahead for you. If you are a recreational player and want something to last longer, just invest some more bucks in Yonex Mavis 200i and it will cut down your expenses of purchasing shuttles.
Trajectory
For the serious players, Mavis 200i won't do any favours for you as the trajectory is not even close to a feather or Mavis 350 shuttle. You can see that B is the flight trajectory of Mavis 200i but if you take my opinion, the fall of the shuttle is not so sharp as shown in this diagram, it just travels some more distance but not like the trajectory of "C" shuttle, its better than that.
So basically, Mavis 200i is a shuttle who want an upgrade from their 10-20 rupees shuttle or just a beginner on indoor or outdoor court.
General specifications
Type: Nylon shuttlecock
Ideal for- Beginners
Speed: Slow
Cork material: Rubber or recycled cork
Price- Around 400 rupees
Quantity- 1 box contains 6 shuttles