Top Indian wrestlers like Vinesh Phogat, Bajrang Punia, Sakshi Malik etc have taken to the streets again demanding justice over sexual harassment allegation put on WFI President and ruling BJP MP Brij Bhushan Singh. This was the 2nd protest by the Indian wrestlers as they earlier did another protest at Jantar Mantar in the country's capital in January but was assured by sports minister Anurag Thakur of justice that made them to take back their protest.
However, things didn't turn out the way wrestlers wanted it to be so they again had to call a protest where they await the action by the government. The wrestlers are sleeping on the streets demanding justice and are urging the authorities to file a FIR against Brij Bhushan who is a sitting Indian MP of BJP from Kaiserganj in Uttar Pradesh.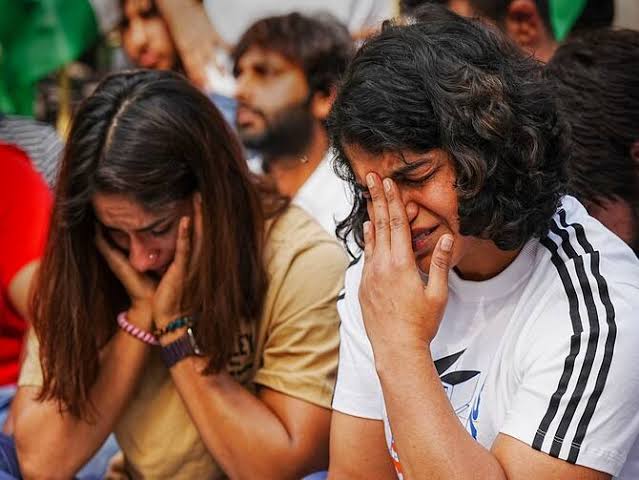 Several Indian athletes supported the protests by the wrestlers after Vinesh Phogat questioned the Indian cricketers of not speaking a word about their protest.
"The entire country worships cricket but not even a single cricketer has spoken up. We aren't saying that you speak in our favour, but at least put up a neutral message and say there should be justice for whichever party. This is what pains me… Be it cricketers, badminton players, athletics, boxing…"
"It's not like we don't have big athletes in our country. There are cricketers… During the Black Lives Matter movement in the US, they showed their support. Don't we deserve even that much," she asked.
Olympic champion Neeraj Chopra said:
— Neeraj Chopra (@Neeraj_chopra1) April 28, 2023

Olympic champion Abhinav Bindra said:
As athletes, we train hard every day to represent our country on the international stage. It is deeply concerning to see our athletes finding it necessary to protest on the streets regarding the allegations of harassment in the Indian wrestling administration. My heart goes out…

— Abhinav A. Bindra OLY (@Abhinav_Bindra) April 26, 2023
2011 world cup winning member of Indian cricket team and current Rajya Sabha MP Harbhajan Singh said:
Sakshi, Vinesh are India's pride. I am pained as a sportsperson to find pride of our country coming out to protest on the streets. I pray that they get justice.#IStandWithWrestlers pic.twitter.com/hwD9dKSFNv

— Harbhajan Turbanator (@harbhajan_singh) April 28, 2023
2007 T20 world cup winning member of Indian cricket team- Irfan Pathan said:
Indian athletes are always our pride not only when they get medals for us…

— Irfan Pathan (@IrfanPathan) April 28, 2023
Former India cricketer Navjot Singh Sidhu said:
Shocking that 9 women of recognition complained & no FIR is registered. it'll be a tear on the cheek of time in Indian history…… Any country that insults their women icons is hurting its own pride , these women have brought laurels to the nation. They have given wings to the… pic.twitter.com/cKZgCxKKQo

— Navjot Singh Sidhu (@sherryontopp) April 28, 2023
2011 world cup winning member of Indian cricket team- Virender Sehwag said:
बहुत दुःख की बात है की हमारे champions जिन्होंने देश का बड़ा नाम किया है , झंडा लहराया है , हम सबको इतनी ख़ुशियाँ दी हैं, उन्हें आज सड़क पर आना पड़ा है।
बड़ा संवेदनशील मामला है और इसकी निष्पक्ष जाँच होनी चाहिए। उम्मीद है खिलाड़ियों को न्याय मिलेगा। pic.twitter.com/A8KXqxbKZ4

— Virender Sehwag (@virendersehwag) April 28, 2023
Former Indian women's hockey team captain- Rani Rampal said:
— Rani Rampal (@imranirampal) April 28, 2023
World champion boxer- Nikhat Zareen said:
It breaks my heart to see our Olympic & World medallists in this state. Sportspeople also serve the nation by bringing glory & laurels.
I sincerely hope & pray that the law takes its own course and justice is served at the earliest🙏🏻
Jai Hind.#IStandWithMyChampions https://t.co/w5eaJuwzSz

— Nikhat Zareen (@nikhat_zareen) April 28, 2023
Multi time grand slam champion- Sania Mirza said:
As an athlete but more as a woman this is too difficult to watch .. they've brought laurels to our country and we have all celebrated them , with them .. if you have done that then it's time to now stand with them in this difficult time too .. this is a highly sensitive matter… pic.twitter.com/7mVVyz1Dr1

— Sania Mirza (@MirzaSania) April 28, 2023